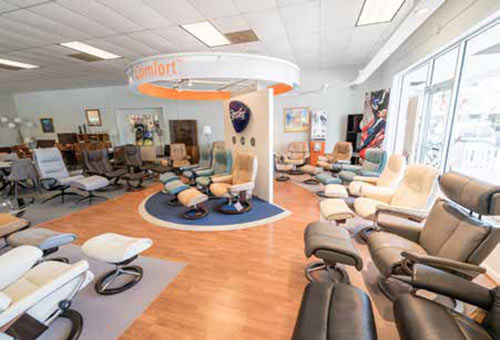 Because people spend an unusual amount of time at home these days, having a space that is both stylish and comfortable has proven to be well worth the investment. "Your environment should reflect your individuality and provide comfort," said Paul Haugaard, partner of Danco Furniture. "Coming home should be the best part of your day. Danco Furniture can make that happen."
Originally established on East Bay Street in downtown Charleston, Danco Furniture has served Lowcountry residents in the Mount Pleasant area since 1986, and the business has outlived many of its competitors. Danco Furniture provides its customers with the best service through hospitality and a vast knowledge of the furniture industry, all with a relaxed sales approach. The consultants at Danco want to help you furnish the room of your dreams with pieces that will stand the test of time in both style and durability.
Haugaard, a veteran of the furniture business, has been in the industry since 1979, and his reputation and success bring in clients from the Charleston area and beyond. Danco sells and delivers furniture to residents in Hilton Head, Wilmington, and elsewhere along the Carolina coasts. Haugaard said many of his clients travel from Kiawah, Seabrook, Beaufort and Myrtle Beach just to shop in his store. Danco has acquired a notable reputation over the years for running a successful business with loyal repeat consumers — during a time when shoppers struggle to find quality among what seems like endless options.
While Danco Furniture has a variety of sought-after, quality pieces, one of their most popular lines for nearly 35 years running is the Stressless Collection of chairs, recliners and sofas made in Norway. This collection appeals to consumers for its ergonomic curves. There are options in leather and fabric, with many styles to choose from. The Stressless Recliner, originally designed in 1971, is even endorsed by The American Chiropractic Association. When style meets the practical needs of the hard-working American, a bestseller is born.
"Many consider the Stressless Collection as being the gold standard and definitely in a class by itself for neck and back support. The comfort is foremost with style and quality. The Stressless Collection can last a lifetime," explained Haugaard.
The Stressless Collection, and other select items of their most popular pieces, can be found on the showroom floor at Danco Furniture, located at 1035 Johnnie Dodds Blvd. Larger, customized selections can be purchased via special order. The team at Danco Furniture invites you to come see exactly what they have to offer.
"Quality, design, comfort and service is what we offer each and every customer at Danco Furniture," said Haugaard. "We back up what we sell, and that is why our customers keep coming back."
To shop Danco Furniture's modern and contemporary furniture collection, or to see available promotions, visit DancoHome.com, or call 843-884-2256.