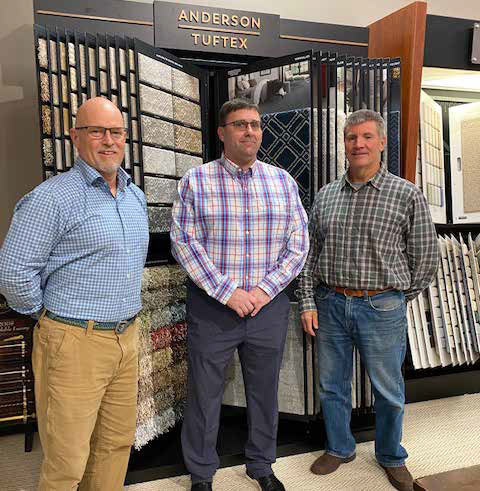 It was 1992, and Dean Kelly was a 29-year-old new father working for a large building supply company that sold flooring. The economy was not great, and the company he was working for was struggling to pay its bills and employees.
"After the second payroll check was stamped 'NSF' for non-sufficient funds, I told my wife Lou Ann that it was time for us to start our own business."
After some discussion and "much prayer," Kelly's wife jumped on board, doing her husband's payroll and accounts payable, all while keeping her job at Bank of America. Along with a remodeler/friend who did insurance work — who would be Kelly's business partner for around a year — the couple formed Carpet Baggers.
"I remember writing down 77 different names, but I kept coming back to Carpet Baggers," explained Kelly. "My mother loves Civil War history and she begged me not to name my company after the 'hated villains' from the North that came South after the Civil War to profit from Reconstruction." But Kelly knew some words have completely different meanings, and he wanted a name people would remember for the "good things we could do."
A friend of Kelly, Stevie Leasure, left a career at State Farm and joined the Carpet Baggers family in 1995, later becoming a business partner, along with the company's General Manager Sean Forbes.
"Carpet Baggers has always put our customers first," said Kelly. "If there is a problem, we find a way to make it right. We operate on advice from my dad who told me if you take care of your customers, they will take care of you.
We were growing quickly, and we had gotten into new home construction, and that quickly became the biggest segment of our business."
But business hit a bit of a downturn during the recession of 2008, which led Kelly and his team to join Carpet One. "Carpet One helped us maintain our business and replace lost new construction business by showing us how to become a retailer. We were given products, financing options and programs, like the 'beautiful guarantee,' where we will replace carpet, hardwood or other 'select exclusive participating flooring options' and labor if a customer doesn't like the product … for a period of 30 to 120 days."
Kelly added, "My wife came to work full-time here; my dad put in 20 years before retiring; my sister, Traci, and her husband Rick Carpenter came on board too. All three of our daughters — Sam and her husband, Reid Flinn, Parker and Sydney, who is a career Carpet Bagger — have spent time working in the family business."
Whether it's a rental, resort, remodel, new home, commercial business, property management or you're just looking to replace a room or add a new rug, the "family-friendly folks" at Carpet Baggers Carpet One Floor & Home will take good care of you. Added Kelly, "If we have a hiccup, we will make it right."
For more information on Carpet Baggers Carpet One Floor & Home, visit carpetbaggerscarpetone.com, or call 843-410-2680.