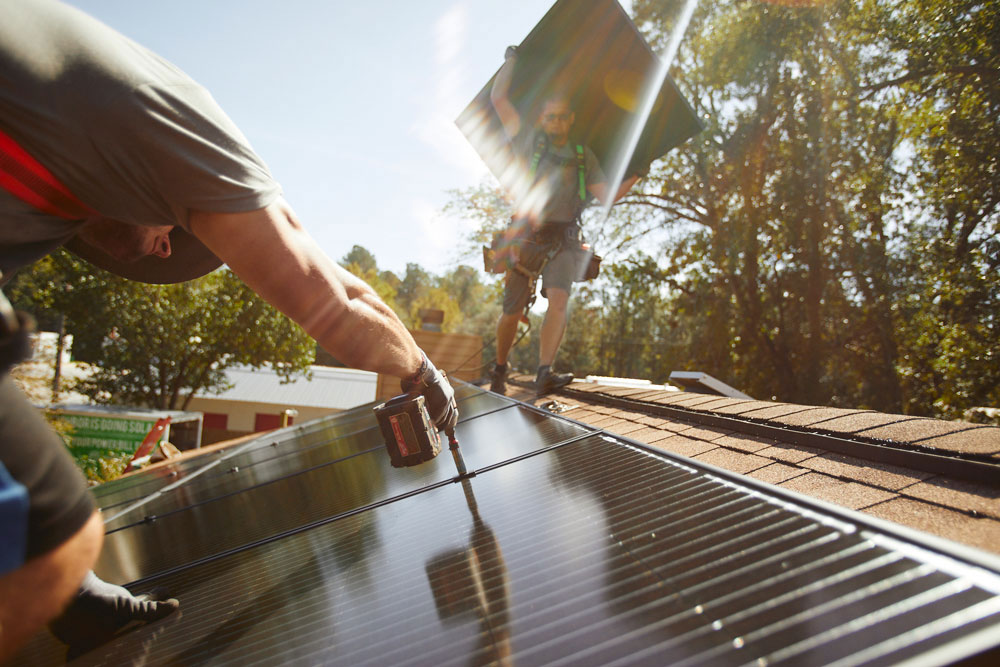 Plants figured it out long before we did: how to take sunlight, convert it into energy and store it. There is no denying that following in their footsteps and harnessing solar energy to fuel our daily energy needs is a part of our future. In a city filled with sunshine, whether you're considering solar panels to help the environment or your bank account, you're not alone. 
I have solar panels on my house. For the record, I bought my house with them installed. It took a little digging to figure out how the system works, but every time the sun shines, I know I am saving money. Some months I spend more on a cup of coffee. 
Before we discuss solar panels, it's worth examining the big electrical picture and in South Carolina that means Dominion Energy. Danny Kassis, general manager of Strategic Partnerships and Renewable Energy for Dominion Energy South Carolina, explained that as they work towards a goal of net zero carbon dioxide and methane emissions by 2050, solar is a big part of their commitment to a diverse, sustainable fuel mix.
"In 2015, Act 236 or the Distributed Resources Energy Act that created incentives for solar was unanimously passed. It gave utility companies the opportunity to get in the game by creating programs designed to work with existing federal and state tax benefits. That was step one. In response, we created the Community Solar Program for those who didn't want to put solar on their roofs and offered it to churches, schools, municipalities and private residents." Kassis cited three solar farms located in Orangeburg County that cover roughly 80 acres of land and provide 16 megawatts (MG) in total. People quickly subscribed to the program and today there is a waitlist. "The provider delivers energy, and we transfer those benefits of ownership to the individual subscribers," he said.
When the legislative successor, Act 62 or the Energy Freedom Act was passed, it allowed Dominion to develop additional community programs. Kassis explained the progression of ideology behind the second measure. "The first programs started the growth of the South Carolina market with subsidies to make customer financials acceptable. The next step was to encourage a desire to support solar as the right thing to do." 
In Dominion's case, that means big solar farms by third party partners to the current tune of 5,000 acres or 1,000 MG. Kassis sees solar as a growing part of what Dominion offers. Done to scale, there is a declining cost curve, and those savings are passed on to their customers. "It's a balancing act," he noted. "We want to reduce carbon, do it in an economically optimal way for all and ensure it is reliable." He feels Dominion has already made big strides. "For a company our size to have embraced clean energy to the extent we have is amazing, but over time we think we can do a lot more."
While you wait for the solar component to ramp up on the utility end, you can still do your part as a homeowner to harness the sun's energy in the name of environmental responsibility and take advantage of tax credits. According to Palmetto, a home solar energy solutions company founded in 2010, more than 25,000 South Carolinians have already installed rooftop solar systems. 
When you consider that the traditional electrical grid sometimes pulls power into your home from thousands of miles away, it seems a lot more sensible to streamline the process with your own 'localized' rooftop power plant. And with the technological advancements today, the possibilities are endless. Take, for example, solar storage in the form of a lithium-ion battery that, as an addendum to the panels, allows you to store that energy and consume it during the evenings when the sun isn't shining. In a state like ours, it's handy to have a reliable backup power source for your home in the event of a grid outage, especially during a hurricane. 
Software tools that show solar savings are also very attractive. In the case of Palmetto, their intuitively designed home energy app and platform allows homeowners to view and control their home's energy usage in real time. 
While the window for tax credits is getting smaller, homeowners can still take advantage of savings. The Federal Solar Investment Tax Credit has been extended in a step-down schedule through 2024 and South Carolina residents can claim 25% of their solar investment as a state tax credit of up to $3,500 per year, according to Palmetto. 
It's nice to know that our utility companies are eyeing a future with solar power savings for all. In the meantime, creating your own power source sounds like a pretty bright idea, too.