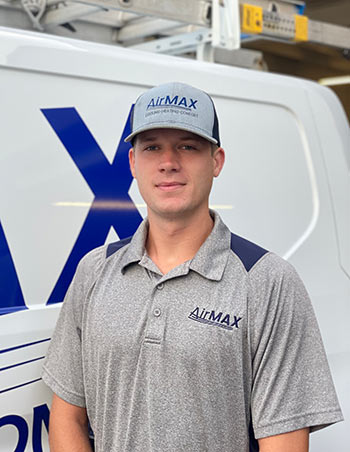 Brent Dawson may not wear a cape to work, but when he's able to fix a client's HVAC woes on a hot summer day, he feels like a superhero. That's one reason he loves working for Mount Pleasant heating and cooling company AirMax – they allow him to make a difference in people's everyday lives.
After graduating college, a friend recommended that Dawson take a summer job at an HVAC company, and he has been servicing heating and cooling units ever since. "It's a very reliable job, and I get to provide a good service for people in stressful situations," he explained. The core values that AirMax strives to uphold – namely, creating a stellar work environment and doing quality work for each and every client — drew Dawson to join the family-owned business. "I've always tried to treat each call as if I'm working on my grandma's house," he divulged. "At AirMax, we want to make sure that things are properly done, and [management] gives you the time to do quality work."
Dawson was also impressed by the camaraderie of each and every member of the AirMax family. "There's not a single person you couldn't spend a 10-hour shift in a car with," he shared. "Everybody gets along, and the company is always working to grow and better themselves. I can see myself working here for a very long time."
When Dawson isn't saving the world one HVAC unit at a time, he spends as much time outside as possible, and he enjoys fishing and hunting around the Lowcountry.
For more about commercial or residential heating and air service in Mount Pleasant, or for questions about AirMax call (843) 614-3276 or visit AirMaxSC.com.