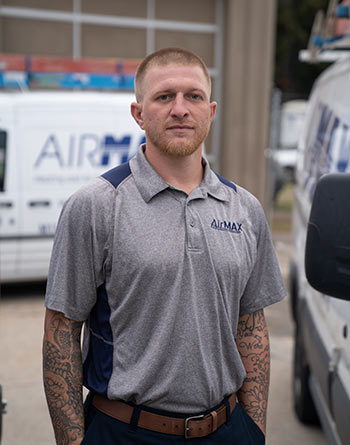 Bobby Breault became an HVAC technician because he enjoys solving people's problems and helping them feel more comfortable in their homes. He became a member of the AirMax heating and cooling team because they empower him to take his time at each and every home so that he can do just that.
Breault fled the cold Ohio winters for the more temperate South Carolina climate after high school and began his career in the HVAC service industry in the commercial sector. When the industry sidelined Breault, he began searching for a company that would give him the flexibility to put his family first. A father of four children ranging from 4 to 10 years old, Breault was impressed by the willingness of family-owned Airmax to accommodate life outside of work. "If your kid has a game or a doctor's appointment, [owner] Medd makes sure that you don't miss it," he remarked.
Equally important to Breault is the level of service that he's able to provide due to the client-forward approach that AirMax upholds. "I enjoy being able to solve complex problems that nobody else can," he explained. "Sometimes I'll visit a home after two or three other companies have been there and told them that they need a new unit. I'm able to spend time with the homeowners, find out what's really going on and work my way backward to find a solution to their problem."
When he's not making Mount Pleasant residents more comfortable in their homes, Breault and his family enjoy traveling to his in-laws' upstate abode, where they spend their days out on the lake, fishing and boating.
For more about commercial or residential heating and air service in Mount Pleasant, or for questions about AirMax call (843) 614-3276 or visit AirMaxSC.com.