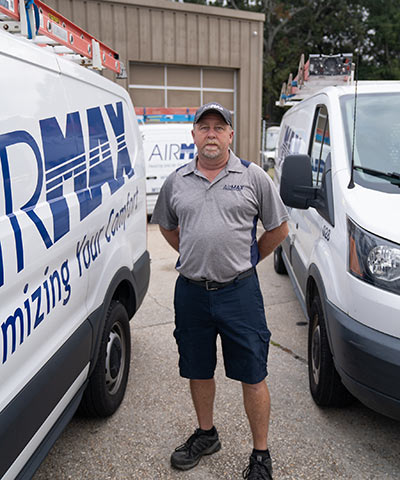 Mount Pleasant HVAC company Air Max is known for their outstanding service, which extends far beyond the friendly office staff. A great attitude is always important, but when your air conditioning unit isn't working properly on a hot Lowcountry day, you want someone knowledgeable and experienced to show up on your doorstep. Service technician Steve Runyan is exactly the person that you want to see.
Runyan began his career in the heating and cooling industry in 1995 and serviced HVAC units part-time throughout his 11 year career as a deputy in his home state of Indiana. In 2015, he returned to the industry full-time, and, not long after, a friend who had fled the snowy winters for more temperate Charleston weather convinced Runyan to join him in the Lowcountry.
The two of them worked together at another HVAC company, but after a few years, they both decided that it was time to join a more family-oriented, customer service-focused team. When Runyan had an opportunity to join the Air Max family, he knew that it was exactly the atmosphere he had been searching for.
"They're not just about business," he explained. "They also allow you to have time for your family and are more than willing to accommodate and do whatever they can to make that happen."
When Runyan received a call that his elderly father back in Indiana had contracted COVID-19, he had just arrived at his first service call of the day. His Air Max family was extremely supportive, giving Runyan the time that he needed to travel to and care for his father before his passing. "I left for an undetermined amount of time and kind of played it by ear. I was gone for three weeks. They understood," Runyan recalled.
Most importantly, his Air Max family are "a good group of people to be around. When you enjoy the people that you have to see every day at work, that makes work a lot better."
When he's not bringing comfort to Air Max clients, Runyan enjoys anything that involves the outdoors, from riding his motorcycle to hosting a cookout. He and his fiancé are especially looking forward to traveling to Sturgis, South Dakota for the perfect bikers' honeymoon.
For more about Mount Pleasant, SC heating and air or for questions about AirMax call (843) 614-3276 or visit AirMaxSC.com.