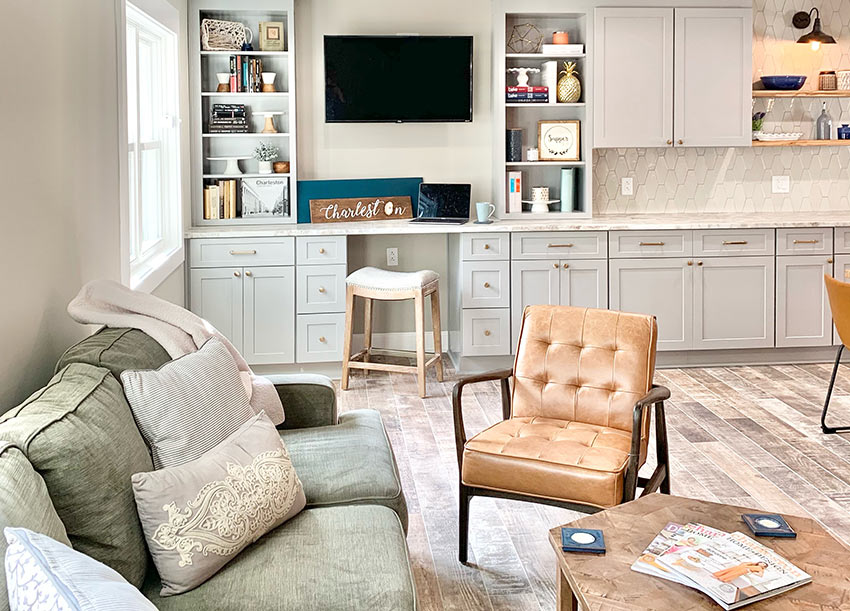 Working from home can seem like a dream for many people. There's more time in the day thanks to a lack of a commute, and they can work in a familiar space and avoid the distractions that can come with a regular office space.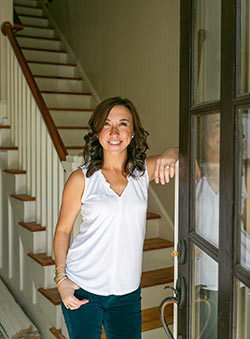 Over the past year, the COVID-19 pandemic has forced employees all over the country to work remotely, avoiding a potentially infectious office space. A survey from PricewaterhouseCoopers notes that 83% of employers saw success when moving their employees to at-home work, and around 55% of employees would like to work remotely at least three days a week in the future.
When remote work looks like a more permanent option, having a productive and efficient workspace at home is crucial. Katelyn Irizarry, owner and lead designer at Polished Renovations and Design, has a few tips for those looking to create a solid workspace.
"I'm very big on intentional spaces. When designing something like a home office, I always ask my clients how they live in the space. Some people just use their laptop, a pad of paper and writing utensils. Other people have a lot of things that they need to use," she said.
"I think it's really important to pick items that help you organize based on the way you go through your day and for everything to have its own home. If everything has its own place, it's a lot easier to keep things organized," she continued.
Polished Renovations and Design has redesigned and remodeled home offices in the past, but the company has noticed more of a focus on remote workspaces over the past year.
Before, an office would be part of a larger home renovation and would require small changes, like a paint job or a lighting change. But now, overall changes to lifestyle have caused homeowners to be more mindful of potential workspaces for themselves, as well as spaces for children to complete schoolwork.
"These times are a little bit different, and people are working for companies that are more lenient and flexible with work schedules," said Irizarry. "Kids may need to have their own space other than the kitchen table, since so many of them are still doing remote school."
Now that both kids and parents are working remotely, many families are having to find spaces that are more than just a table and chair. Dining chairs and barstools may need to be swapped for a chair that will feel comfy throughout a whole workday, and the workspace can be moved to a quiet, low-traffic area in the house to reduce distractions.
Of course, everyone has different starting places when they are putting together a remote workspace — some have an entire room to dedicate to designing their office, while others need to turn a desk in the corner of a room into a practical and effective area.
The space will need to be tailored to fit the daily needs of an individual employee, but an office doesn't just have to be a simple desk and a chair. No matter how big the workspace is or what kind of tools are needed, Irizarry pointed out there are ways to make a space work for anyone.
"If we're trying to fit an office space into an existing part of the home, where it's going to have multiple uses, I generally tend to find ways to make it look cohesive and not just a desk stuck in the middle of the space. I tend to incorporate more furniture and cabinets in the desk areas," she noted.
One of Irizarry's recent projects was to design a more productive, organized workspace for a client that had carved out a space to work in their bedroom. "The client is a photographer, so we designed a really cool custom space in their bedroom. It looks like a giant piece of furniture, but it serves as a desk and storage for other things. It's her own office area but working within the space that they have. It doesn't look like an old, messy desk sitting in the middle of the bedroom."
"If someone has a dedicated office, I find them trying to turn that into more of a living space that feels homey," she said. "So, you might have your office on one side and maybe some lounge furniture or something on the other. A lot of people are getting used to working in different types of spaces now, and they're not always sitting at their desk."