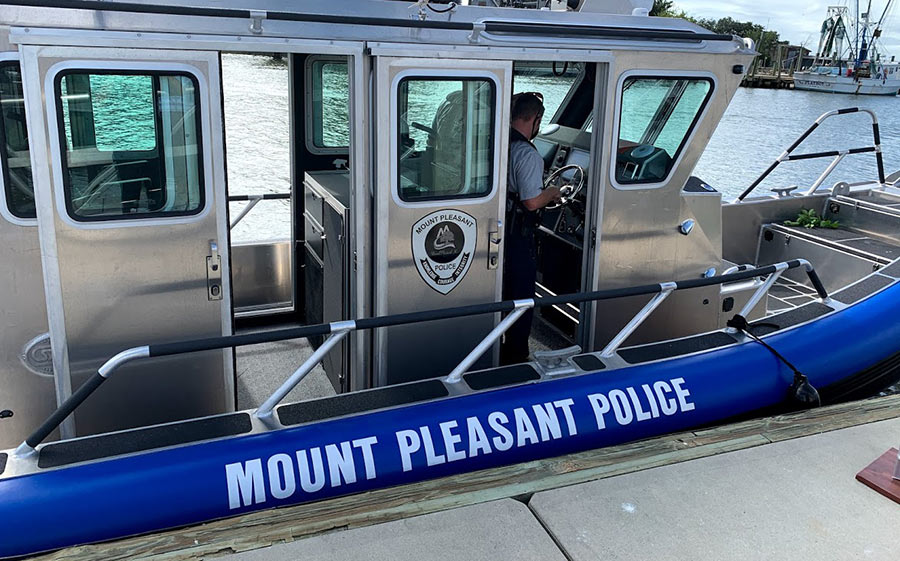 No word yet as to whether the members of the Mount Pleasant Police Department's Harbor Patrol have been studying Malay, Tamil or Mandarin. But if they have, they'd be paying homage to a tradition of service that dates back to the 1860s in the faraway multi-lingual port of Singapore. That's when the international trading hub established the first official marine patrol – an attempt to thwart rampant piracy – and based it out of a "floating police station."
Mount Pleasant doesn't have a floating police station – at least not yet. But the MPPD recently enhanced its own marine patrol capabilities, upgrading from a 19-foot Pioneer to a brand-new, fast, rugged and reliable Safe Boat.
Built specifically for police and military service, Mount Pleasant's new Safe Boat patrol craft model has been combat-tested. American-built by Safe Boats International of Bremerton, Washington, the new police boat is bit pricier than your weekend runabout or personal fishing boat, weighing in at $385,000, the bulk of which was supplied through federal port security grants.
Lt. Christopher Rosier, who heads the 14 officer all-volunteer team of water-borne warriors — all of whom have undergone rigorous training for their mission – said, "Our job is to provide safety and security to anyone entering the waterways of the Wando River, the port and Charleston Harbor."
"We are tasked with responsibilities, from identifying and acting on criminal activity to search-and-rescue, medical assistance and educating the public about boating safety," he added.
All of the maritime police officers are thoroughly trained in first aid and have medical equipment at hand. Each shift aboard the new boat will include one member of the Mount Pleasant Fire Department's EMS-trained medics to render additional assistance as needed. The vessel is also equipped with a mobile command center in the event of a major incident on the water.
The normal complement of officers per shift on the new boat is four, although with its ergonomic design and walk-around cabin, the craft can handle as many as 25.
The personnel on board will have a treasure trove of sophisticated equipment to help them with their mission. According to Lt. Rosier, the boat's electronics include "side-scan capability so we can locate something underwater, such as a boater overboard or a bridge jumper."
"We also have state-of-the-art GPS and radar so that we can scan the surface of the water and pinpoint what's out there, along with an excellent night vision system so we're not limited by darkness on the water. And of course we have a depth finder and plenty of spotlighting capability as well," he continued.
The lieutenant emphasized that the new Safe Boat's primary responsibility will be patrolling, looking for any suspicious activity and rendering assistance to boaters as needed. "We work closely with the Coast Guard and all other agencies in our area," he said. "We are all connected to Charleston County's Consolidated 911 dispatch center via radio. The first agency on scene at an emergency starts the process, then when the agency with the proper mandate arrives, they take over."
There's a good chance that Mount Pleasant police will be the first on the scene. Powered by twin 250 horsepower Yamaha outboards, their new boat has plenty of speed to get there, and with a 250-gallon fuel tank, it's not likely they'll run out of gasoline before the mission is completed.
But the job isn't always chasing down bad guys. In fact, Lt. Rosier noted that, "Our goal is to prevent arrests. However, if an arrest is appropriate, we'll be well-equipped to handle it. Other times, we might just stop a boat, check their life jackets and offer additional water safety information. We want them to know what things they are supposed to have on board and make sure they actually know how to use them."
As for the safety of Mount Pleasant's marine officers themselves, their new boat gives them protection. Their Safe Boat really is safe. In fact, it's virtually unsinkable. The aluminum-bodied boat is encased in a patented foam collar system for flotation, stability and fending off docks and other craft, utilizing the same foam designed to insulate the Alaskan oil pipeline. In the unlikely event of a catastrophic hull breach, the foam collar will keep anyone on board afloat.
Now that the Mount Pleasant police have a new boat to help them perform a marine law enforcement role, maybe the marine officers do need their own floating police station after all.
Or maybe not. It's hard to keep that police-issued coffee from sloshing out of mugs when the surf's up.