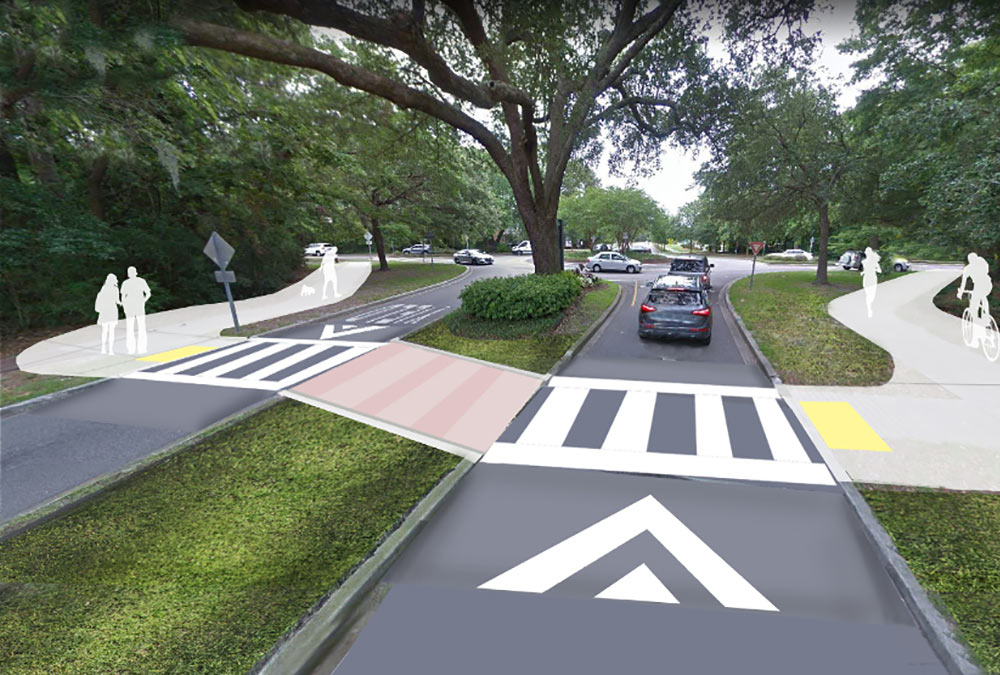 The appeal of Mount Pleasant from a biker or walker's perspective is obvious: temperate weather, meandering marshes, sprawling live oaks and an abundance of native wildlife. 
While the beginnings of Mount Pleasant Way were officially incorporated into the town's comprehensive plan in 2018, it's safe to say the concept was on the minds of staff and residents alike for many years. James Aton, Operations Division Chief for the town of Mount Pleasant, is also the project manager for this legacy proposal. He explained that the process of connecting all of Mount Pleasant — from Waterfront Park to the Ten Mile Community – through a linear park consisting of 20 miles of continuous bike paths starts with the development of a spine or designated route. This route adjoins secondary and tertiary paths that run through neighborhoods, schools, recreational facilities, public parks and so on, facilitating educational, historical and cultural opportunities. "Think of the spine as Highway 17 for those users, connecting to other infrastructure pieces," he said.
The optimal pathway design is eight to 12 feet wide and constructed mainly of asphalt to accommodate two-way traffic for mostly non-motorized users — although scooters, skateboards and Segways are being considered. The path width and materials will vary, Aton pointed out, to account for such things as proximity to historical trees, drainage requirements, wetlands or heavily trafficked areas. 
While there is a cost expectation of roughly $20 or $30 million dollars, Aton put the cost in perspective, explaining, "A typical road widening falls in this range." But he also made it clear that the process for selecting the right consulting team highlighted the importance of pursuing funding and lightening the load for the town. "We wanted an organization looking at federal and state grants, public-private partnerships like the Kenny Mile and funding through concurrent road-widening projects like Highway 41."
While it might seem like a monumental task, Aton broke it down this way: "We developed a matrix internally to assign different value points to segments so that we can pursue a path that makes sense." In other words, a piece of the proposed pathway might be on a road that is already earmarked to be developed or redeveloped, increasing the likelihood it will be incorporated. Or a segment might connect to existing sections of sideways, greenways or trails to create loops. For example, when the pathway crosses the Christ Church ditch in the heart of Six Mile, Aton will make sure the team reaches out to the community and historical committees to discuss design options, such as historical placards, swings or parklets that reflect local desires and keep the theme of the project.
Aton sought input from a multitude of organizations, and five stakeholder groups were formed: Emergency Management/Safety/Enforcement; Non-Profit Support Groups; Tourism/Culture/Aesthetics; Technical Committee; and Connectivity/Linear Parks. "We wanted to involve as many people as possible to capture all of their ideas," he said.
Katie Zimmerman, executive director of Charleston Moves, a nonprofit organization that encourages mobility through bike, foot and public transportation, is a stakeholder partner in the project. Zimmerman expressed overwhelming support for the possibilities Mount Pleasant Way presents.
"South Carolina is one of the most dangerous states in the nation for people who walk and bike, in particular for African Americans and senior citizens. Furthermore, Charleston County is the most dangerous county in the state. Mount Pleasant Way will offer an incredible option for people to feel safe enough to choose different modes of transportation," she noted.
She also felt the path would empower children to be able to transport themselves to school or to a public park area. "A lot of parents don't currently have confidence in the infrastructure. Giving neighborhood kids around Lucy Beckham High School, for example, a viable option to walk or bike to school would be awesome and could also relieve some bus issues."
Charleston Moves focuses on bike lights as a major safety necessity from a legal and equity standpoint. "Bike lights are required by law, and we don't want anyone to be ticketed for not being able to afford one." She anticipated bike light giveaways in support of The Mount Pleasant Way.
Zimmerman was struck by the robust use of wayfinding markers, such as kiosk signage, decision posts, banners and pavement markings. "Frankly, I have not seen a plan as good as this one," she remarked. "Having a town invest in solid transportation options speaks volumes about who they value. By supporting this, they are actively saying 'we want people to be safe and have the freedom of transportation options.'"
Aton echoed her sentiments when asked about the catalyst behind the bike-ped path. "This is absolutely a legacy project that will undoubtedly put the town of Mount Pleasant on the map as a destination for folks seeking that active lifestyle — which, in turn, will lead to an increase in activity for our local businesses," he said. He also noted that the town is lucky to be currently located on both the East Coast Greenway, which spans from Maine to Florida, and the Battery 2 Beach system from Folly Beach to IOP.
"But the biggest motivator for this project is to answer the calls and requests of our citizens through the development of safe, sustainable and equitable infrastructure for bikers and pedestrians to use in a multitude of ways, from recreation to education to commuting," he confirmed. "The Mount Pleasant Way will make this town an even better place to live in and visit."