There's nothing that bonds a parent and child like a shared hobby. But whether right or wrong, many hobbies carry the weight of gender bias. Fishing and hunting are seen as "manly," while dancing and singing are stereotyped as female interests. But outdated labels shouldn't stop a boy mom or girl dad from having meaningful ties with their children. Here are the stories of three local children who found their passions through their parents' pastimes, and one local teen who explored an unprecedented interest and bonded with his parents over his calling.
Peter Gholson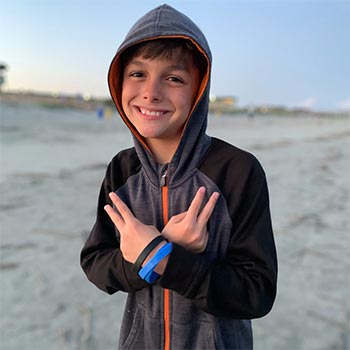 11-year-old Peter Gholson grew up in a household of dancers and discovered his passion for dancing by watching others perform. "When he was little, he would follow his sisters' dance classes or learn the routines they practiced with their friends in the basement," said Kerry Gholson, Peter's mother. While Peter's love for dance was always prevalent, even from a young age, his mother said his desire to partake in organized dance came from witnessing Peace Love Hip-Hop perform during a break in the tennis action at Volvo Car Center.
Kerry helped her son follow his calling by enrolling him in a hip-hop class, and he was immediately hooked. Kerry shared that while growing up, her own father was her "dance parent" and introduced her to Irish dancing, which she competed in, and she and her husband, Kris, enjoy watching Peter carry on the family tradition in his own genre of dance. Peter explained that what he loves most about dance is that "it is a way to forget about the world for a little bit," and Kerry noted that "his eyes and face light up when he starts moving. It's the kind of joy and energy that is contagious," and the kind of joy every parent would love for their child to experience.
Anna and Emilie Saffer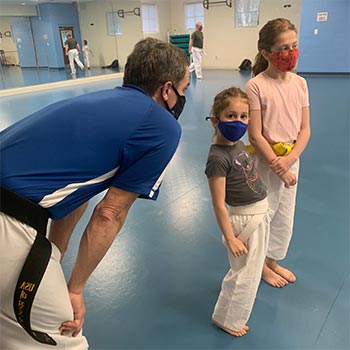 Andrew Saffer's daughters Anna (11) and Emilie (6) grew up watching him do TaeKwonDo. When they were old enough to participate, he encouraged them to begin taking family classes with him. Anna shared, "I like how during practice [TaeKwonDo] seems meditative, and I feel like any stress falls away. I also really like that I get to do it with my sister and my dad." Andrew, an active participant in the sport since college, attained his fourth-degree black belt practicing under Master Jack Emmel (eighth degree) and Debby Gessert (sixth degree) and credits his daughters' growing passion for the sport to these wonderful instructors and others at the Southeast Headquarters of the USA TaeKwonDo Masters Association (USATMA), operating out of the Isle of Palms Recreation Department.
Andrew also mentioned that there are incredibly strong female role models with USATMA who serve as great inspiration to women of all ages currently participating in the Korean martial art. "We have several high-level female instructors and participants, and there is never a sense that being a girl or a woman will limit achievement in our practice," Andrew explained. Andrew's wife, Shari, also strongly encourages the girls to continue their TaeKwonDo journey because she takes great comfort in knowing they are learning the skills to protect themselves, and Anna concurs. "I am proud that I am learning to defend myself," Anna said. Anna also mentioned that she hopes "a lot more girls will give it a try. It's fun and it's for everyone!"
Evelyn Elkins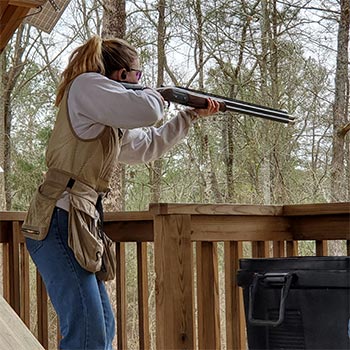 15-year-old Evelyn Elkins began hunting and shooting with her dad, Eric, at a very young age, and when she expressed interest in shooting sporting clays, Eric and her mom, Brandi, took her to watch the youth South Carolina State Championship. Evelyn was immediately hooked. At age 12, Evelyn joined the Wando Shooting Team, which competes in clay shooting in the disciplines of skeet, trap, and sporting clays. "Just like any other sport, it takes many hours of training physically and mentally to master the game," Eric noted. "It has been amazing to watch her develop and grow in her sport over the past three years, and we could not be prouder as parents."
Evelyn's teammate and good friend, 15-year-old Trinity Morris, was also encouraged by her parents to join the Wando Shooting Team to further explore an active interest she had in competitive target shooting. Trinity always "enjoyed the thrill of hitting the target," said her mother, Nicole Morris, and she had a feeling that Trinity would enjoy the competitive sport of youth shooting. "Trinity has been around guns all her life and has been taught to respect them at a very early age by her dad," shared Nicole. Trinity and her father, Robert, have also recently completed a class to obtain their coaching licenses in competitive shooting and hope to build the future of the sport together. As the sport grows, the number of females involved in shooting sporting clays continues to increase, as do the future opportunities within the sport. "Competitive shooting provides young ladies with a unique opportunity to enhance their skills and to grow in a sport that provides a multitude of scholarship and professional opportunities to last a lifetime", said Erik.
Sam Herbert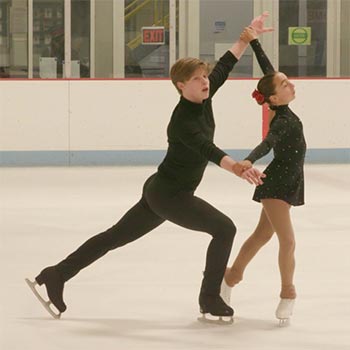 Minde Herbert, mother of Sam Herbert, a qualifier for the 2020 U.S. Figure Skating Championship Series, said that while most parents are the driving force behind their child's initial involvement in an activity or sport, Sam's interest in figure skating did not come from her or her husband — but the encouragement he received to chase his own dream did. When asked how his parents support his passion for figure skating, Sam said, "In every way. My parents have given an arm and a leg to help me achieve my goals. I really appreciate their emotional and psychological support, not to mention their financial support."
Minde said she remembers exactly when Sam's interest in figure skating began. "The "aha" moment happened while he was watching the 2018 Winter Olympics," she recalled. "Sam realized what was possible with the sport when watching the Olympic figure skating competitions, particularly World Champion Nathan Chen's athleticism and artistry. Sam wanted to skate as much as possible after that." Sam, freshman and class president at Oceanside Collegiate Academy, shared that what he loves most about figure skating is "the freedom! In figure skating, you can really do your own thing. If you want to be competitive, you can, and if you want to perform without the pressure of being judged, that's also an option."
Sam encourages other males to give it a try. "It's way tougher than you think and definitely way more fun." Minde echoed Sam's encouragement for other young males and females to step onto the ice. "The sheer athleticism that it requires is often overlooked because good skaters make it look easy," she explained. "Imagine doing ballet on a slippery surface with knives on your feet. It's one of the toughest sports around." Minde and her husband, Steve, supported Sam's initial interest in a sport they themselves knew very little about, but they saw potential for their son in exploring. "Sam is a natural ambassador for figure skating since he loves teaching others and sharing his passion for the sport," Minde said, adding that watching their son set and achieve new goals in figure skating has been an inspiration.