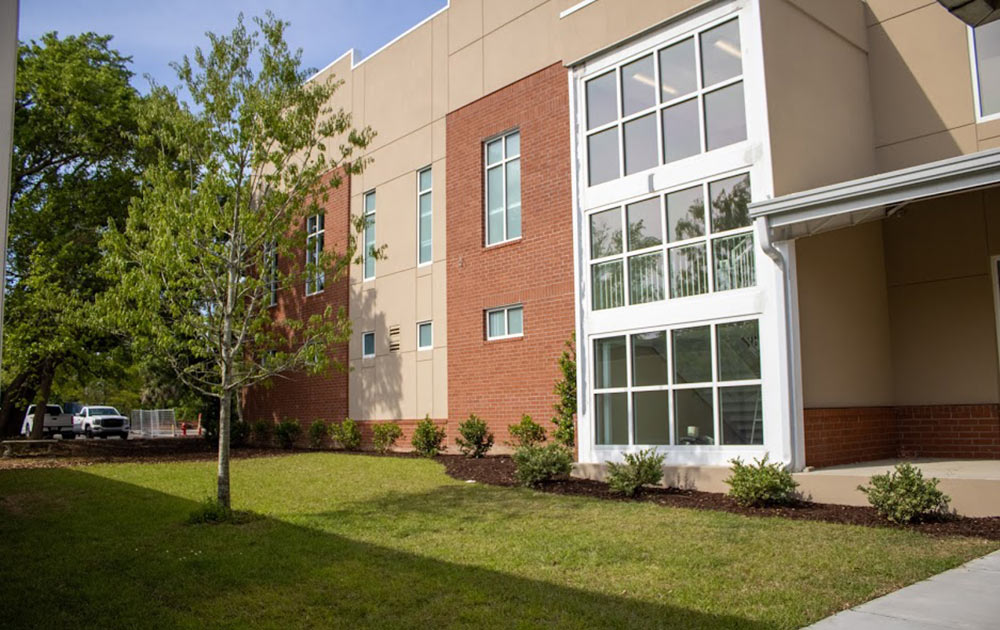 Experiencing the fullness of life, fulfilling God's purpose and achieving excellence in education will be the cornerstones of daily life inside the new Student Life Center at Palmetto Christian Academy.
More than six years in the making, this much-needed building will open its doors officially to high school students at PCA this fall. And according to PCA's Headmaster JD Zubia, the grand opening couldn't come at a better time.
"We have experienced a 39% enrollment increase over the past four years in grades K through 12, and we are seeing more growth now," he explained. "The Student Life Center will better equip our school to have an even greater impact on local students, both academically and spiritually."
PCA is a private Christian school located in Mount Pleasant. The Christ-centered education offered at PCA begins at pre-K and continues through 12th grade. The Student Life Center was built to enhance the academic and athletic experience for each student, as well as to provide greater opportunities for spiritual development and mentorship.
The 44,000-square-foot facility will house two fully-equipped science labs with permanent lab stations; a technology center, which will include 3D printers, MacBook Pro computers, and the latest technology for STEM learning; a gymnasium, weight room and locker rooms for home and visiting teams.
Zubia explained, "As much as our students and teachers love our church, this will be the first building on campus that is built as a school building versus a church building. This means that the design is very much like a typical high school campus, and we believe students will display a new level of school pride."
Obtaining the funds for this huge campus expansion did not come without its challenges, but Zubia said that the power of prayer helped them reach their goals.
"This has been a dream for not only current parents and students, but also for many of our alumni and their parents for about six years. Watching this building go up over the last 18 months has been a much needed boost to our morale during the pandemic," he mused.
The fundraising effort the school took on paid off, quite literally, in fact, and they were able to raise nearly $8 million for the construction of the new Student Life Center.
"God has been faithful in providing the funds needed to complete this project through families who believed in the mission of our school. Though some families knew their children may not ever set foot in this building, they still contributed and even served on fundraising committees to promote the Student Life Center. At critical junctures in the fundraising process, we had generous families who initiated 'Challenge Matches' to help jumpstart the campaign," he explained.
The opening of the Student Life Center will coincide with improvements to the main building, which houses the middle school and lower school students.
"We will be upgrading our science classrooms to enhance our STEM program for every grade level. We purchased new computer carts for use in the classrooms and our next major project will be to upgrade our Worship Center, which also serves as our theater for all fine arts performances. In addition, we recently purchased two new buses and will completely redesign the lower school playground."
There is much excitement among the PCA community. Upper school students recently toured the soon-to-be-finished Student Life Center at PCA. "They were amazed to see spacious classrooms, well-designed science labs and locker rooms that are finally large enough to accommodate PE classes and athletic teams," Zubia said. "They were in awe of their new gym, which seats over 1,100 fans and has video scoreboards rarely seen in high school arenas."
Kendall Anderson, rising senior, said, "I was so impressed with the new gym and the science classrooms. I cannot wait to start fall sports in the gym and learn through using the new technology in class. I think that the Student Life Center will boost student morale and appreciation for PCA. I also believe that it will be an amazing opportunity for PCA to grow our family and create a new, engaging environment for the student body."
PCA is on track to set a record in enrollment for the 2021-2022 school year.
For more information on Palmetto Christian Academy, visit palmettochristianacademy.org.