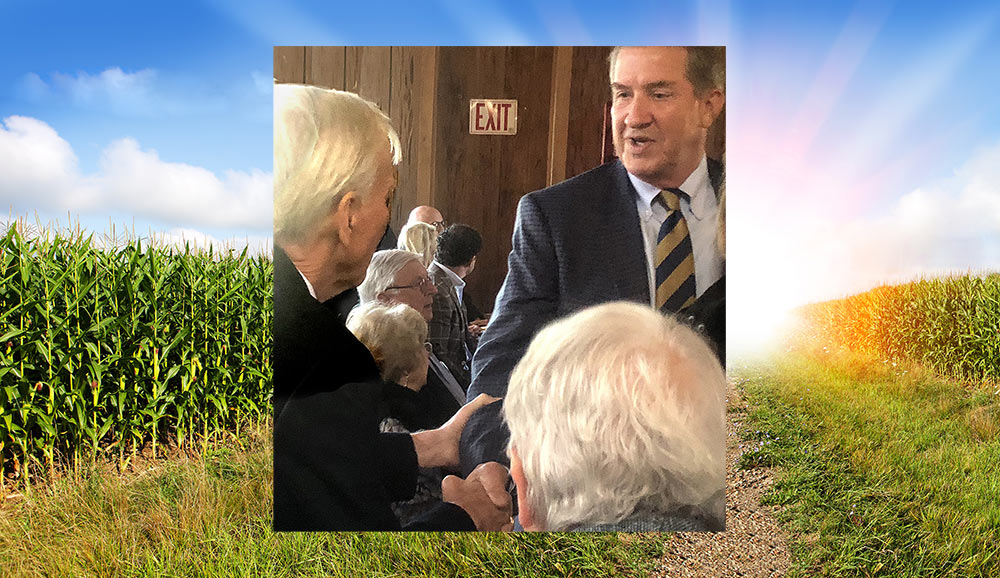 How a Lowcountry friendship is boosting agribusiness and tourism in Mount Pleasant
This fall, Boone Hall Plantation will be holding its 25th annual pumpkin patch and 16th annual corn maze during the weekends in October. With a shorter kid-friendly maze inside of a larger, more complicated maze, Boone Hall's festival features one of the largest corn mazes in the country. And thanks to family-friendly hayrides, a petting zoo and pumpkin patch, the event caters to everyone.
This year, the plantation's corn maze will signify Mount Pleasant's appreciation of the farmers of South Carolina. The "Certified SC Grown" logo, born out of the Department of Agriculture's office, is displayed on produce that has been farmed in South Carolina to let consumers know when they are purchasing locally grown food. For those that knew former Boone Hall owner Willie McRae, however, this year's theme holds additional sentiment.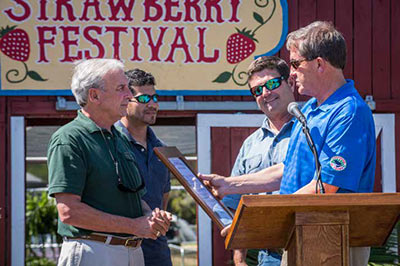 Decades ago, William "Willie" McRae's family bought Boone Hall Plantation, a historic tourist destination that rapidly expanded over the years. While McRae implemented conservation methods to protect Boone Hall's land and history, it did not prevent him from launching new events, expanding his business and creating new experiences for guests until his death in April 2020.
"Willie always believed in keeping the community in touch with the treasure that Boone Hall is and what his family had given him. He wanted to share that with the world. These special events—the Lowcountry Strawberry Festival, the Boone Hall Pumpkin Patch, and other events he started—were ways he could do that and engage the community and also give families a chance to have wholesome fun on the farm," said Rick Benthall, director of marketing at Boone Hall Plantation.
McRae had a strong relationship with the South Carolina Department of Agriculture. Commissioner Hugh Weathers and McRae had a years-long friendship; both Southern farmers, the pair recognized the value that farming and agribusiness bring to the state. This year's design has a twofold meaning: it highlights the importance of agribusiness in South Carolina and also honors McRae's legacy as an avid supporter of the state's agriculture.
"As people learn about what this year's fall festival will involve, they will get one more good reminder of what 'Certified SC Grown' is. And that will raise their curiosity, and it will remind them that when they're making those food-buying decisions, to look for that 'Certified SC Grown' label so your food dollars will stay in South Carolina and will help our South Carolina farms," said Weathers. "It's one more reminder of 'Certified SC Grown,' and it is one more component of a great partnership we've had over the years."
The "Certified SC Grown" label has been an important project to Weathers while in office. The Department of Agriculture's objective is to recognize the importance of farming in South Carolina and strengthen that sector to improve the state as a whole. Weathers has worked with farmers, industry leaders and other affiliated elected officials to identify problems with agribusiness, and through this collaboration, a solution presented itself: an easily-identifiable symbol on food and other produce to show consumers where their food is coming from.
"Now today," said Weathers, "if you take the whole of agribusiness, what we grow, what we process and what we deliver in food and fiber — when you combine all of that, agribusiness is the highest component of our economy. It contributes more to our economy than tourism."
McRae's work at Boone Hall aligned with the goals of the Department of Agriculture; more than once, he chose to prioritize conservation, education and neighborhood values over profit, protecting Boone Hall and supporting local produce vendors and farmers. According to Weathers, "as successful as he was and as significant as he was in the Charleston community, I don't think he ever lost his small town agricultural roots out of North Carolina."
Weathers, while dwelling on his relationship with McRae, remarked that he "was a true friend." "We invested in [the maze] to raise the profile, but in my mind, this year's maze honors Willie because it continues our partnership after he has left us," he concluded.