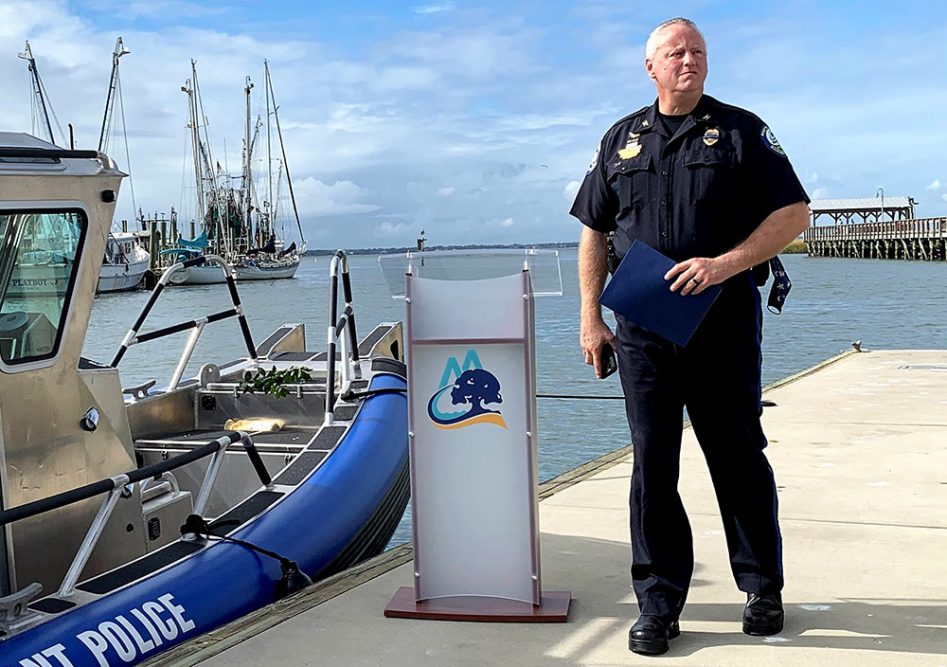 Chief Carl Ritchie Passes the Torch to Long-Time Colleague
From booming real estate to a mask ordinance and from new bike paths to extended parking on Isle of Palms, East Cooper has had a year filled with change. Mount Pleasant Police Department hasn't been immune to this, as they prepare for the retirement of Chief Carl Ritchie and usher Deputy Chief Mark Arnold into the role.
This change is understandably monumental — it involves the retirement of someone who has been a role model and positive beacon within the organization over the course of 32 years. But it won't begin with a jarring transition, as you so often see when an outsider is brought into an important position. Rather, Arnold and Ritchie have worked together for 25 years, with Arnold having already been a large part of the decision-making process at MPPD. This is one change that Mount Pleasant residents can ease into, knowing that their town will still be protected in the same community-oriented way.
I was fortunate to sit down with both Chief Ritchie (CR) and Deputy Chief Arnold (DCA) for an inside look into their experience as officers and what the future holds for them as individuals and for the town of Mount Pleasant.
Mount Pleasant Magazine:
You have served the town of Mount Pleasant for more than 30 years. How has Mount Pleasant changed from the perspective of a member of MPPD during that time?
Chief Ritchie:
Obviously, there's the growth of the town, which used to end at Snee Farm. We only had 30 police officers here to cover the entire area, and that was adequate. I've seen the addition of the 526 bridge and the IOP connector, and, in turn, more traffic. The community itself has changed a lot, but it's still a welcoming town.
MPM:
Working in law enforcement is both extremely difficult and extremely rewarding. What have you found to be one of the most difficult things about serving with MPPD over the last 32 years?
CR:
I would say responding to suicide calls. I don't think you ever get used to that. Before I took over as the chief, we were responding to either a suicide or attempted suicide almost daily. We were responding to the same individual who attempted suicide two, three, four times, turning that person over to EMS, and then moving on to the next call. Then on the third or fourth time, we would respond to the same individual and they had finally completed the act. As chief, I worked on a program to help reduce that. Now we have victim advocates available, so when we respond to an attempted suicide, we immediately assign an advocate and let them know they're not alone. We have dramatically reduced the number of suicides and suicide attempts here.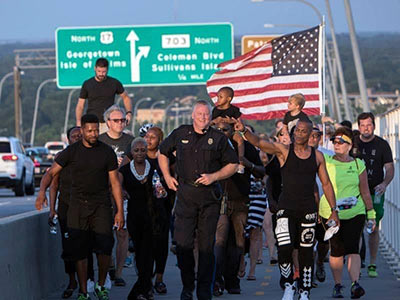 MPM:
What have you found to be the most rewarding?
CR:
After the Emmanuel 9 tragedy, I had the honor of leading the unity walk over the Ravenel Bridge. I knew how much Charleston PD had on their plate, so I reached out to [the chief] and I said, 'Don't worry about it. We'll make sure it's handled.' There turned out to be 10,000+ people. And I had the opportunity to lead that march starting on the Mount Pleasant side. I worked directly with the organizers and community activists and really took the time to build a relationship with them. Then last year, when local activist groups asked to march across the bridge again, I had a meeting and just said, 'Tell me what you're trying to accomplish.' Instead of having a repeat of the unrest happening across the nation, I was able to successfully gain their trust and help people walk across the bridge and back peacefully. In other words, being able to do that in a world that seems so divided stands out to me.
MPM:
Both you and Deputy Chief Arnold have had long careers with MPPD, which is really very rare, I think, in policing. What is it about the town of Mount Pleasant and the department that have led you to serve its citizens for so long?
CR:
I got my start with North Charleston PD and enjoyed my time there, but coming here to Mount Pleasant, it just seemed like a family atmosphere from day one. The people of Mount Pleasant respect the police department, and we have respect for our community, and that goes a long way. The mayor and council have always been very supportive of the police department, and the Town Administrator has a succession plan that allows us to promote from within and provide opportunities to develop officers at all levels.
MPM:
What do you think makes Deputy Chief Arnold the right person to step in and fill your shoes?
CR:
Deputy Chief Arnold has the support of the officers and the other staff below him, which I think is so important. He has demonstrated to me that he truly cares about this agency and the citizens that we serve. I've watched him in some very stressful situations throughout his career, and he's handled them very well. He's also well respected by the surrounding agencies, which we work closely with on a regular basis. If we can't work together, we can't succeed, so that's very important.
MPM:
Being a police officer and husband and father definitely is not easy. And I think it's probably even more difficult as chief. What are you looking forward to doing with your family when you retire?
CR:
Being present for my family. And what I mean by that is, quite frankly, that I have not had a vacation in probably eight years. I've taken a weekend off here and there. But even then, I'm constantly on call. I have to check emails, texts, take phone calls and be ready to deal with something at any time of day.
MPM:
Being part of the police force means that you never have two days that look alike. You live in a constant state of adrenaline and have to be prepared for high-intensity situations at any time, which is kind of the opposite of being retired. How do you plan on combating the boredom of doing the same thing every day and not having a high-intensity situation always looming over you?
CR:
I'm starting a new job the Monday after I retire, actually. I'll be working with a company called MUR Strategic, which is owned by a retired police officer. I will be the Director of Education and Training and will be responsible for overseeing the day-to-day operations for the company's global training initiatives. The company provides leadership and tactical operations training for public safety and military operations. I'll only work a couple of days a week to start, but I think it's important to keep my mind active and busy.
MP:
What is the very first thing that you plan to do when you walk out of those doors on your last day at MPPD?
CR:
I'm going to let it sink in that I'm no longer the chief and won't be serving our citizens the same way. I'm also going to reflect on how proud I am of having been able to serve this great community — and how knowing the people in leadership positions are going to continue keeping this town safe, which makes me feel really good.