Posted July 19, 2021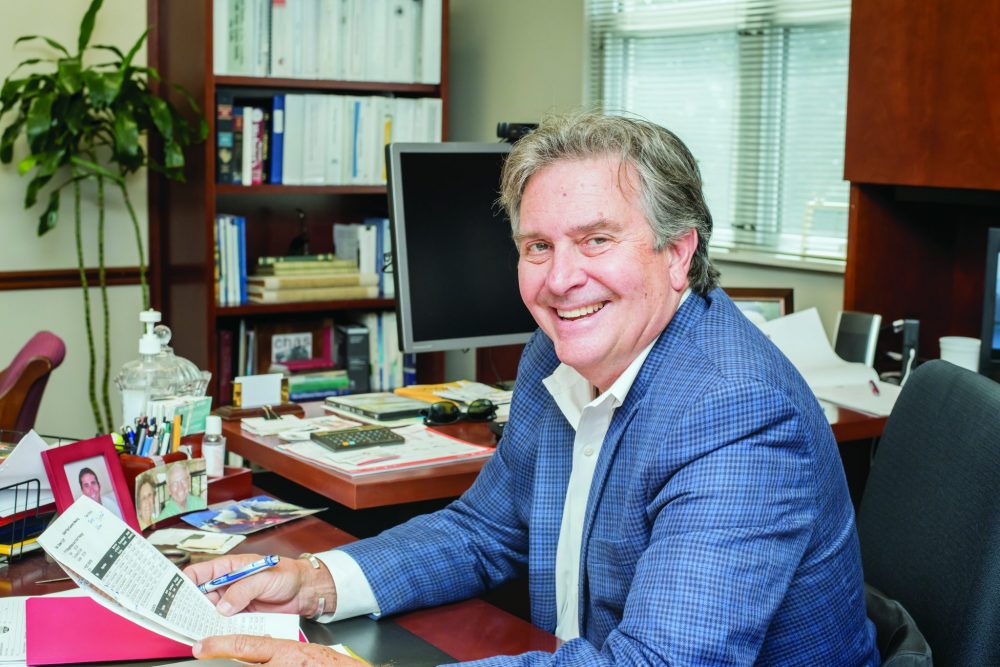 Despite relying on his work product daily, most Mount Pleasant residents don't know much about Clay Duffie. Now, he's leaving the role he has held for more than 30 years: overseeing all of the town's water needs for both drinking and sewage outflow. Duffie stepped into the job as General Manager of Mount Pleasant Waterworks in March of 1989, just six months before Hurricane Hugo hit, ripping through our coastal communities and causing massive devastation and destruction. In the decades since, Mount Pleasant Waterworks has continued to grow and to handle the water needs of a population that has more than doubled.
As of July 15, Duffie will officially retire from his post as the water wizard East of the Cooper. Reflecting on his long and frequently honored career, Duffie told the professional journal of the American Waterworks Association that his most interesting task – and challenge – was managing "the construction and deployment of South Carolina's first reverse osmosis water treatment system."  Later, he initiated the design of the state's first permitted aquifer storage and recovery systems. Educating regulators proved to be a major challenge, since neither technology had ever been permitted in South Carolina.
With that in mind, Mount Pleasant Magazine caught up with a few of the people who have known and worked with the Waterworks GM over the years. One of these Duffie fans is Rick Crosby, who has served on the Waterworks Commission for almost as many years as Duffie and currently chairs that body. "Clay has done an absolutely awesome job at growing our utility," Crosby said. "He is exceedingly well known at the state and national levels and has won numerous honors. And he has created a tremendous management team. On a personal level, Clay is a thoroughly happy guy and an outgoing strong family man. He has always been a wonderful spokesman for the Waterworks and the Commission in the bad times as well as the good."
Former mayor and town councilman Billy Swails added, "I've known Clay since before he took this job, and he was a godsend when he got here. He's done a terrific job, not only at the Waterworks but in our community. We've had many hurricanes since Hugo and lost electricity during the majority of them. But we've never lost our water supply. Clay always had his act together, and his staff were always prepared. He's the one who modernized our water department.
"Now, he needs to get out and catch more fish. He's a captain and can take you right to where the fish are. Personally, I'm not planning on going out with him. But I sure wouldn't mind having a beer with him when the fishing's done." In a subtle intra-state needle, Swails added with a chuckle, "Other than his being a Clemson Tiger, there's nothing bad I can say about the guy."
Mount Pleasant land developer Gordon Darby also had good things to say about Duffie. "He succeeded a guy who was not helpful to developers in Mount Pleasant, particularly when growth started to take off in our town. When I first met Clay at a function at Alhambra Hall, I knew right then that he was the kind of guy who would work with us. I can't say enough about what he has done for our town. He has always had a sense of what was important and how to get the funding to get the job done. Always friendly and ready to take on any challenge, he also knew how to say 'no' too," Darby concluded.
Of course, who would know Clay Duffie better than his pastor? For many years, that position was held by the Reverend Monsignor James Carter, now retired from Christ Our King Catholic Church and living on Edisto Island. The cleric recalled a church auction, when a bidding parishioner came out of the church followed by an auction item so bulky and huge it obscured the person lurching along in its wake. The helpful volunteer was Clay Duffie, who turned to the priest and quipped, "It's OK, Monsignor. I'm just always the guy who winds up carrying the merchandise!"
"He was always delightful," Monsignor Carter recalled. "When I brought my old Boston Whaler here, he went to work and refurbished it for me. Anything you asked Clay to do, if it was in his power and if he was able to do it, it was done. I always enjoyed his company, and he was the kind of parishioner a pastor is happy to have."
Adding a little dig at his long-time friend, Monsignor Carter noted that Mr. and Mrs. Duffie frequently arrived for Sunday Mass a few minutes after the service had begun. "But," Monsignor Carter added, "they always stayed until they heard the 'Ite missa est!'" That's the priestly pronouncement in Latin that the congregation is dismissed, and the Mass has ended.
"I know that Clay works out and jogs every day and he'll keep that up," the Monsignor added. "But I hear tell that he and Mrs. Duffie plan on traveling the USA in their own RV. When they do, they'll have to organize their possessions, and it's guaranteed that Susan will walk up front with Clay trailing behind, carrying all the heavy stuff!"