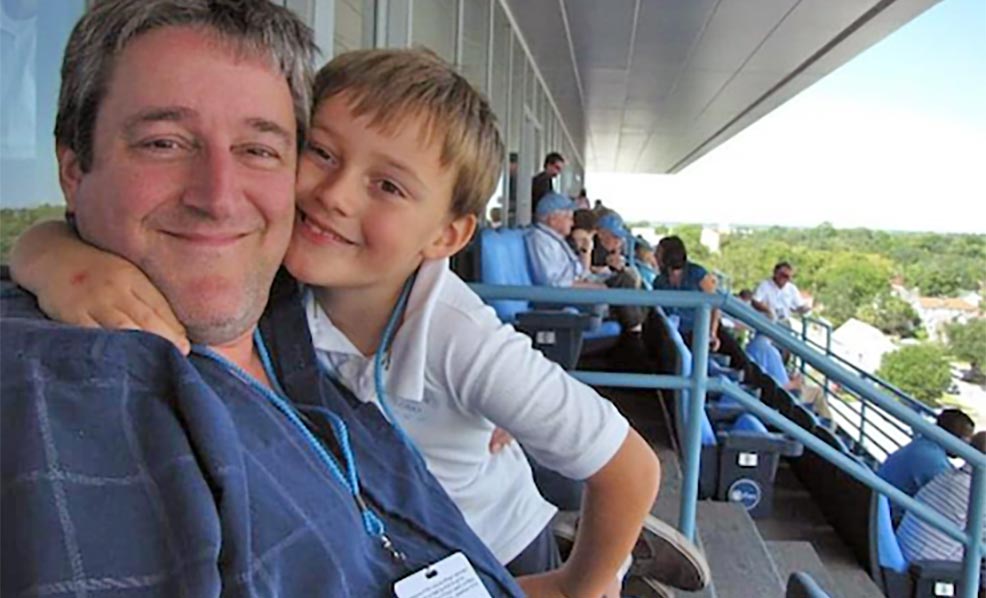 It's a ritual that you were likely subjected to as a child and now want to try out with your own offspring. No matter how it turned out, it ended up being one of the best memories you could ever make. For my son and me, our road trip was much more than a rite of passage. It was a journey of grieving and healing that started as a quest to fulfill part of a life cut way too short.
When my lovely wife, Mary, found out she had breast cancer, she fought it like a champ. It shouldn't take a life-threatening disease to remind anyone that tomorrow is not guaranteed, but when we realized time was not on our side, we started planning the trip of a lifetime that might well be her last. New York City and Boston were on her "bucket list." Unfortunately, she never got to see them.
When my then-9-year-old son, who looked to me for, well, everything, and I were staring down the prospect of a starkly depressing summer in 2012, I knew we had to take that trip and make those memories in honor of her because she so wanted to do it with us. It would become an intrinsic part of our grieving process.
At the time, I was on hiatus from my radio career because I just didn't have the desire at that moment to continue. The pain of my loss was overwhelming, and besides, my son needed me. The hiatus did fortunately free up some valuable time, the most important commodity of all. And so the planning began.
We decided against flying and opted for the open road instead. The thought of just driving and experiencing everything and anything along the way to distract us from our devastating loss was extremely appealing. As they say, it's not the destination but the journey that counts. In retrospect, planning that adventure probably saved me from going to a very dark place. It showed my son that no matter what, you have to keep going and trying to make the best out of any situation. I crammed in as much as I thought we could physically, financially, emotionally and psychologically accomplish. Honestly, I had so much fun putting the itinerary together, it made the anticipation for the trip that much greater.
Looking back, I have so many pictures, stories and memorable moments from that trip, it could fill up this whole magazine. I guess that was the point. Plus, there's just so much to do between Mount Pleasant and Boston.
We headed straight to Carowinds and the Fort Mill KOA. A visit to Charlotte to see friends took us to Chapel Hill and Durham so that my son could check out future college possibilities — hey, a dad can dream. My wife was a big Duke fan, so getting a tour of Cameron Indoor Stadium on their campus was a treat. Lighting a candle in her memory at the cathedral while the organist was practicing was resplendent. It would not be the last lit in her memory on that journey.
We went through the Chesapeake Bay Bridge Tunnel just to say we did. In Washington DC, we checked out the White House and the Capitol — thank you, Tim Scott —along with Arlington National Cemetery and a Washington Nationals game, the first of six different ballparks and teams we would experience. We saw Camden Yards and the Baltimore Orioles, then drove to Gettysburg and stayed in the very unpresidential Eisenhower Inn. Next, we were off to Philadelphia for a Phillies game and all the other sites, including the birthplace of our nation. As a former high school teacher — my wife was a teacher, too — I was determined to make sure that there was some serious learning on this trip. After running up the steps like Rocky, it was on to the Jersey Shore and then the Big Apple. We did it all in New York City, including sitting behind home plate at Yankee Stadium — thank you, Elliot Summey. We saw a Mets game too, but they lost ugly. After visiting family in Connecticut, we headed to Boston for the 4th of July with the Boston Pops and the fireworks show on the Charles River.
As the rain fell and fireworks exploded overhead to the soundtrack of "Paradise" by Coldplay, tears ran down my face. My loss continued to torment me. In that moment though, I realized Mary was still with us and always would be, and that we would be all right. My son turned to me and said, "I'm having a great time, but I sure miss Mom." Me too, buddy. Me too.
While my son commented that Fenway wasn't as nice as New York's stadium — thank you, Mike Barnicle — we saw the Sox beat the Yanks in a classic. On the way back home, we made stops at Mount Vernon, Monticello and for more family visits, until our 27-day and 3,200-mile family road trip finally came to an end. There was just one element missing, but my son said she had been riding shotgun the whole way.
Take the road trip, folks. Take it from me that time is short and precious, and it means more with each passing year. You will be amazed by what you learn about yourself and your family on the open road. I certainly was.
Richard Todd is a longtime radio and TV personality in the Lowcountry and the host of "The Morning Buzz" on WCOO-FM, 105.5 The Bridge. He has received numerous awards and recognitions and was named a Legendary Local of Charleston in 2013. He is also a survivor of testicular cancer.
Photo Gallery