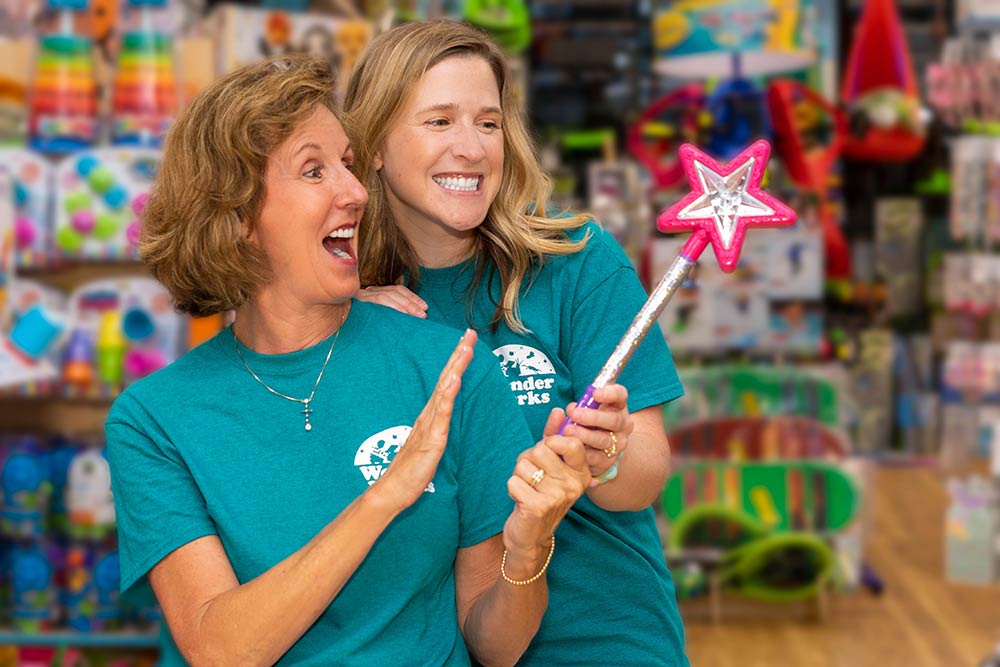 She's the whimsical one. The lady who loves toys. She's the welcoming face for local children encouraging them to do what they do best — play with toys. She's Christine Osborne, and most of us know her as the owner of Wonder Works Toys at Belle Hall Shopping Center in Mount Pleasant — a local business of 31 years with probably more fans than one can count.
But as life progresses, so does Christine, and she has decided to pass on the torch — or should we say magic wand — to her protégé, Elizabeth Royall Darby, aka Schnookie, as she is known at Wonder Works. Elizabeth has been with the toy store for 25 years.
As a die-hard fan of Wonder Works, I'm here to tell you folks that there is no need to fear — Osborne couldn't be leaving Wonder Works in better hands. Sure, we all know her as a nationally acclaimed toy-industry expert, but Elizabeth is no amateur — and she has learned from the best.
Picture it: circa 1996, little Elizabeth was only 9 years old, doing homework in the back storage room of the original Mount Pleasant store off Coleman Boulevard while her mother worked as a Magic Maker. "I remember Christine telling me to come help in the store," Elizabeth reminisced. "I would help straighten up the Hello Kitty display, wrap presents at Christmas time, anything — and I loved every minute of it."
It became a family affair when Elizabeth's older sister, Julia, began working at Wonder Works as a freshman at the College of Charleston. After helping out during her older sister's shifts as well, Elizabeth became an official employee in 2002, at age 15.
She left for college, but continued to work at Wonder Works throughout those years on the weekends and during breaks. She took on a larger role in 2007 when Christine's business partner, Daniel K. Morrisey, passed away from pancreatic cancer. Upon graduation from the College of Charleston in 2009, Elizabeth became a full-time manager of the Mount Pleasant location.
In 2011, she was managing not one but two locations when they opened the Wonder Works store in the Charleston City Market. Her role expanded even more in 2011 and 2012 when she became head buyer and operations manager. She grew the e-commerce for Wonder Works, managed the warehouse/distribution center and oversaw Wonder Works' representation in three off-site locations.
But only having worked with the toy store her whole life, Elizabeth decided in 2017 to dabble in another opportunity. "I wanted to try something else, so I accepted a position with Toy Travelers Rep Group as a sales representative for Georgia and South Carolina."
During the year away, she also started working with silhouette artist and author Clay Rice. "I was traveling so much, and I began to miss being home," Elizabeth shared. "I confided in Christine that I wanted to look for another job, and she basically told me to 'hold that thought" and then added that we needed to talk.
Elizabeth admitted that she didn't sleep that night. She met Christine at the store the next morning at 5 a.m. to work on a display. Christine spoke to her about downsizing Wonder Works — at that time, there was also a store in West Ashley and at Freshfields Village — and getting back to their roots. It was in that conversation that Elizabeth expressed her interest in buying the business.
"Done," said Christine with a handshake. That was 2018. Of course, there was much work to be done before Elizabeth could sign the dotted line as owner. Christine consolidated the West Ashley and Freshfields Village locations in 2020 — just before the pandemic began. The Charleston City Market is still in full swing under Christine's ownership, but Elizabeth manages it. As for the Mount Pleasant location, that's now all Elizabeth's.
Christine and Elizabeth worked as a team throughout the pandemic, coming up with creative ways to stay afloat. They launched a new Wonder Works website with the first ever virtual retail store, so that ordering was easier online. They also incorporated a new touch-free point-of-sale system. Their social media campaigns, which have been top-notch for many years, took on an even bigger role as well.
Christine still supports Elizabeth, and you might even catch her working in the Mount Pleasant store.
Of her protege, she left these parting words: "Elizabeth is a great people person, excellent leader and buyer for the stores and is trusted by national toy vendors for her excellent feedback with product development. She received the Rising Star Award from the American Specialty Toy Retailing Association."
"However," Christine continued, "her heart lies in helping and creating magic for her community. In passing the wand to Elizabeth, I have no doubt that Wonder Works will continue to be known for the joy, happiness and caring it spreads to each and every customer. The love and attention given to children's charities and children entrepreneurs will continue to play a big part of Wonder Works."
As you read this, Christine, aka Ya-Ya to her five grandchildren, now looks forward to spending more time with her family in retirement. Meanwhile, Elizabeth has plans to bring back many of the events that customers of Wonder Works enjoyed pre-pandemic, like Pokémon Trading, after-school programs and art classes. They are planning a Winter Wonderland event this Christmas.
On top of being a new business owner to a highly successful local toy store, Elizabeth can add "mom" to her credentials now as well. She just had her first child, Liza Jean Darby, this year.
"I am so excited to watch my child play with toys and to see her reactions," she said with a grin. "There isn't anything more wonderful than watching a child's face light up with happiness when they play. I can't wait to see more of that in my little one."
Just like Christine, Elizabeth is not afraid of channeling her inner child. You're bound to catch her playing with the toys in the store. She'll be the whimsical one. The lady who loves toys.
By Theresa Stratford