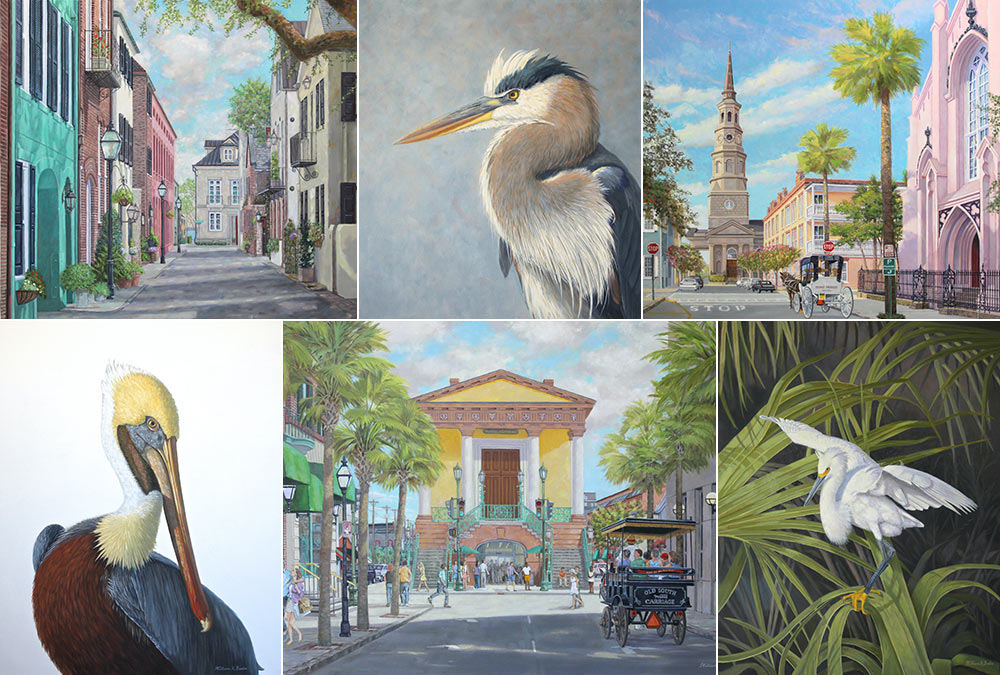 They say for an artist to become successful, he or she must get to know their subject intimately. Lowcountry artist William R. Beebe has found success by narrowing his focus, photographing and painting shorebirds and colorful, historic Charleston architecture.
Living in Mount Pleasant, Beebe finds himself within close proximity to both of his muses. He can be spotted out birding or wandering around downtown Charleston, looking at everything through the lens of a camera almost daily.
Beebe works exclusively with oil paint, choosing a colorful palette and small brushes to capture the tiniest details. "Realistic with touches of impressionism," is how he described his style. He has been painting professionally now for 30 years.
With thousands of his own photographs to work from, he chooses to paint the birds that impress him the most: ones with personality, a striking pose or in action. Great Blue Herons, egrets, and Brown Pelicans are recurring subjects of his eye-catching bird portraiture. His recent Snowy Egret paintings landed him the cover of The Art Mag along with a featured article on the inspiration behind his work. "Snowy's Evening Retreat" and "Snowy's Island Sanctuary" were inspired by a magical Lowcountry moment birding on the Isle of Palms.
The positive response to his two Snowy Egret paintings inspired Beebe to produce a series of 10 smaller Snowy paintings, all part of what he calls The Yellow Foot Collection. "Often, after finishing a painting I imagine the image with a different palette, a different background or painted in a different style. The Yellow Foot Collection allowed me the opportunity to do just that. I presented the Snowy Egret in a variety of poses and had fun with the paint, which is what painting is all about," he said.
The boardwalk at Shem Creek is one of Beebe's favorite birding locations in Mount Pleasant, especially for photographing the Brown Pelican. He said, "The pelicans allow me to get fairly close up because they are used to fishermen and shrimpers tossing them a free meal now and then. It is ideal for studying them for pelican portraiture." "Striking a Pose" was a commissioned portrait by a local couple who also loves the Brown Pelican and wanted a painting featuring the bird for their beach house.
Other favorite birding locations of Beebe's are the Pitt Street Bridge in Old Mount Pleasant at low tide and Magnolia Plantation's Audubon Swamp Garden in the springtime, when the herons and egrets are nesting.
When not painting birds, Beebe is most likely to have a Charleston scene on his easel. He is always keeping an eye out for unique takes on interesting and iconic scenes. For almost a decade Beebe honed his architectural fine art skills as the resident artist for the world's largest credit card company at the time, MBNA. He was charged with producing oil paintings of the company's various office buildings around the world, from which images were reproduced for the cover of MBNA's quarterly reports.
He looks at everything with a critical eye, analyzing the perspective and contemplating the best way to crop the scene and highlight what is most visually appealing. He's most attracted to the soft southern colors, charming architectural elements and the historic nature of Charleston's buildings. Included in his developing body of Charleston scenes are St. Philip's Episcopal Church and the French Huguenot Church, featured in his painting entitled "The Corner of Church and Queen."
"The Holy City's many steeples and spires will become frequent subjects well into my golden years," said Beebe, now in his mid-60s.
One of his largest undertakings so far is a sizable painting of the Riviera Theatre on King Street. "The art deco, retro look of the theater, built in 1939, is an important landmark, which the town is fortunate to have preserved. The theater and surrounding buildings have that small-town look of main street in America, which fills me with a sense of nostalgia," he remarked.
With Charleston having just celebrated its 350th year, Beebe is even more committed to painting the city. His latest tribute to Charleston is his painting entitled "Market and Meeting," featuring the historic Market Hall and busy activity around the city market.
Not all of his Charleston scenes are familiar in nature. Some feature charming entrances of historic homes or a look into a secret alleyway or garden. Special architectural touches like window boxes, gas lanterns, shutters and wrought-iron gates never fail to catch his eye and inspire him.
A self-professed "slow painter," Beebe strives to become more prolific in the coming years. "Charleston provides me with so much inspiration. There are so many scenes I want to paint, and I just can't paint fast enough," he said with frustration. "It's the details that slow me down. But it's sometimes the details that can make a painting."
For Beebe, knowing his subject well is important — he says it is the secret to success as an artist. Attention to detail is a defining characteristic throughout his work, and his palette reflects his love of color.
The magic of the Lowcountry provides many artists with inspiration, and William R. Beebe considers himself one of those artists. It's what nudges him into his studio every day and motivates him to pick up his brushes.
"I love living in Mount Pleasant, and I'm fortunate to be living the dream," he enthused.
---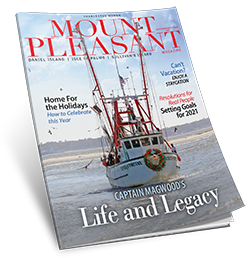 When Bill Macchio, from Mount Pleasant Magazine, contacted me about using my photograph of the Winds of Fortune shrimp boat for the November/December cover to pay tribute to the late Captain Wayne Magwood, I was humbled and honored to say yes.
The photograph depicts the Winds of Fortune returning to Shem Creek after a long day back in October 2017. Judging by the activity of birds and pelicans, I could sense a bountiful catch. I remember my delight to see the Winds of Fortune returning and being grateful for the opportunity to photograph this iconic vessel.
Captain Magwood's sudden death was a tragic loss for his family, the local fishing industry and his beloved community of Mount Pleasant.
The Captain's legacy will live on through all those he mentored and those who loved him, of which there are many. I didn't know him, but I know he must have loved his boat, for he captained it for 32 years. Mount Pleasant Magazine's tribute to Captain Wayne Magwood is both heartfelt and heartbreaking. Rest in peace, Captain.
– William R. Beebe