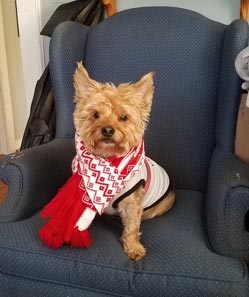 Piper Johnson Coleman
the Yorkshire Terrier
"Piper has been coming to the office with me on and off for the past seven years. He's become one of our office mascots and his friendly, calm, loving demeanor makes him a hit with co-workers and office visitors alike."
Piper belongs to Art Director Dana Coleman.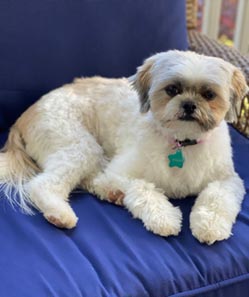 Sully the Shih-Tzu
"Sully has brought so much joy to our family. Our daughters wanted a puppy for years. My youngest daughter made us a bet that if she scored three goals in a soccer game, she would get a puppy. After a long season of losses and very few goals, she made it in the last game of the season! Sully fits in with our family so perfectly, we couldn't imagine her not being ours."
Sully belongs to Brand Ambassador Stacey McLoughlin and her husband Hugh, as well as daughters Claire and Elaina McLoughlin.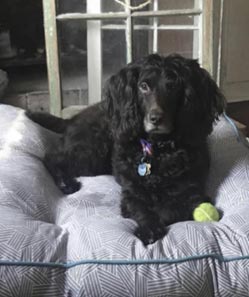 Blue the Boykin Spaniel
"Our dog, Blue, is unique for many reasons. First of all, he is a Boykin Spaniel, which is South Carolina's state dog. We named him Blue because when my youngest son, Conner picked him out, he was wearing a blue collar. He is 12 years old and is the best dog we have ever had! He is wonderful with our oldest son, Nate, who is autistic and developmentally delayed. He is the perfect dog for our family, and we spoil him rotten every day!"
Blue belongs to Media Consultant Mandy Willis, her husband Jeremy and sons Nate and Conner Willis.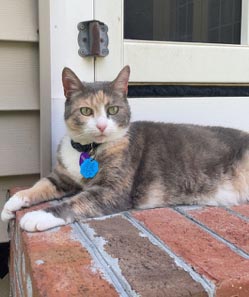 Mabel the Calico Cat
"I adopted 9-year-old Mabel during my senior year of college. It took her some time to adjust to living with me and my friends in a dorm room after being in an animal shelter, but once she did, her personality shined through. She is shy but friendly, and begs to be petted. She's an old lady who sleeps on a heating pad most of the time, but always makes time to sit with me while I write — and to yell for food, of course."
Mabel belongs to Managing Editor Allison Sherman.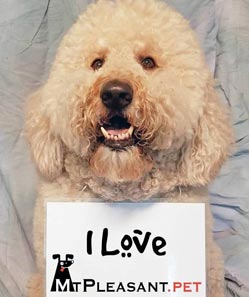 Charlie Macchio
the Labradoodle
"My human Bill is my best friend. Although his fur has turned gray, he still has the energy of a puppy. I adopted him soon after I was born, and I've taken care of him ever since. We go everywhere together, and I always hang out with him and the staff of Mount Pleasant Magazine at work, where I guard our front door from intruders. My human's favorite treats are Monster Energy Drinks, and our favorite thing to do together is go for car rides."
William belongs to Publisher Charlie Macchio.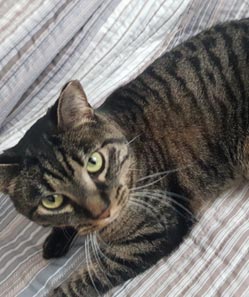 Simon the
Domestic Shorthair
"Simon is an adorable 6-year-old cat but he's got a playful and fun activity level of a 2-year-old when he's in Play Mode. During his Sleep Mode, he's laid-back like any cat. You can find him sleeping in his kitty condo or some comfy little spot around the house. Charleston Animal Society got him placed in a local Petco store, which is where we found him. Simon was such a friendly guy; he came right up to the plexiglass when we were checking out the cats, and we asked to see him. He came right up to us when we went inside the visiting area to see him, and we adopted him on the spot!"
Simon belongs to Webmaster George Conklin.
Madison the
German Shorthaired Pointer
"Madison was a full bred 4-year-old that I was fortunate enough to find at the Mount Pleasant SPCA in 2007, in the middle of my junior year at Wando High School. Long story short, we connected SO much over the years that she was kind enough to pass on my 30th birthday eve, rather than on my birthday itself."
Madison belonged to Graphic Designer Anthony Macchio.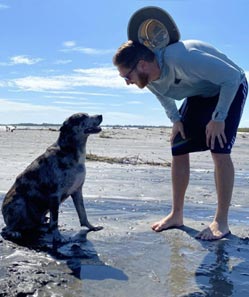 Journey the Australian Shepherd/Pit
Bull/Labrador Retriever Mix
"Journey Kemp is a sweet 7 year old. He loves swimming with dolphins, wrestling with his Dad, and snuggling with his Mom. He sleeps in the bed, lays on the couch, prefers wagyu over prime rib, and has his parents wrapped around his paw. What can we say; he's the greatest thing that has ever happened to us!"
Journey belongs to Sales Manager Cullen Murray-Kemp and his wife Marissa.