A Collaborative Conservation Effort to Help Revitalize Critical Mount Pleasant Seabird Rookery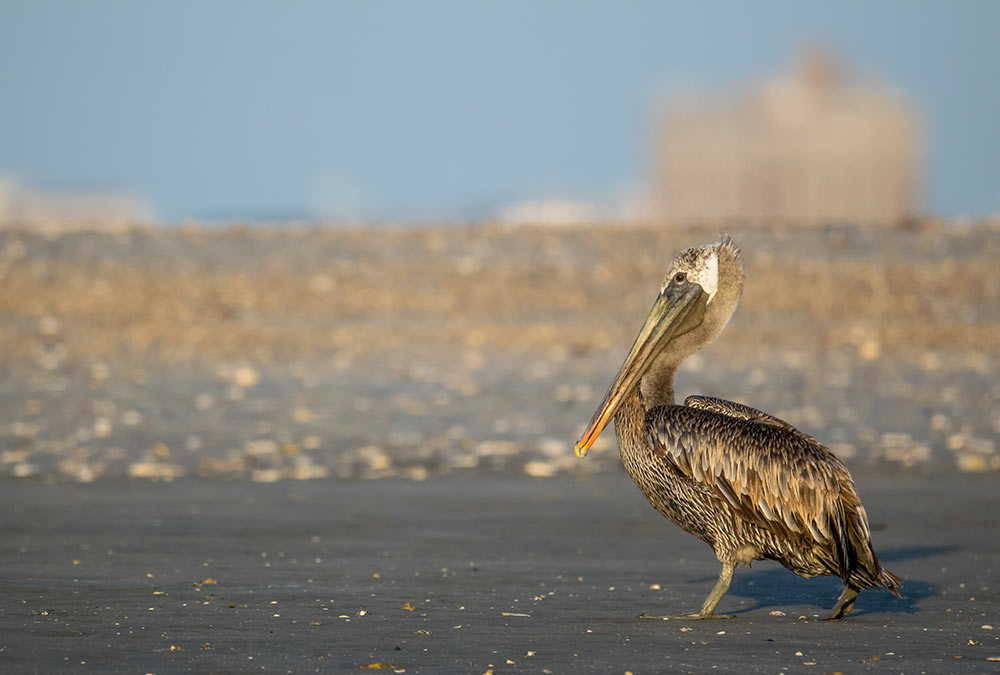 Captain Chris Crolley first became familiar with Crab Bank island in 1992, paddling out often during his early 20s. Crolley, a local naturalist guide and owner of Coastal Expeditions, Inc., recalled a time when he witnessed a bald eagle flying overhead at Crab Bank that startled a flock of roosting brown pelicans so massive that when they flew off it temporarily obscured the sun. That was back when thousands of birds still nested there. Now this shrinking spit of land has nearly vanished, diminished to what Crolley described as an "ephemeral sand bar that is almost completely underwater at low tide."
But that's about to change, thanks to a public-private partnership that includes Audubon South Carolina, South Carolina Department of Natural Resources, the Army Corps of Engineers, environmental stewards such as Crolley's Coastal Expeditions Foundation (CEF), local businesses and citizens. All have collaborated on the project to restore this once thriving bird rookery located near the mouth of Shem Creek that succumbed to erosion.
When rebuilt, Crab Bank will once again house thousands of nesting coastal birds and protect the Mount Pleasant coastline and homes from wind and water, delivering a win-win for birds and people.
Crab Bank has always been a dredge spoil island, originating from Charleston Harbor dredge material sometime in the 1950s, says SCDNR Office of Environmental Programs Director Lorianne Riggin.
SCDNR, which owns and manages Crab Bank, designated it a seabird sanctuary in 2006, establishing it as one of only five such protected nesting areas along South Carolina's coast. This prohibited people from being on the island from March 15 to October 15 during bird nesting season. According to Nolan Schillerstrom, a coastal program associate with Audubon SC, Crab Bank was selected because it provides an environment particularly well-suited for seabird breeding, historically attracting species like brown pelicans, black skimmers and royal terns, as well as some shorebird species including American oystercatchers and Wilson's plovers.
At its peak, Crab Bank hosted upward of 5,000 nesting birds, "which is pretty significant," stated Schillerstrom. "It's literally National Geographic wildlife in our own backyard." He attributed its past breeding colony success to several factors: the island has remained undisturbed by people, is unreachable by land predators that would ransack the nests and provides an abundant food source nearby.
By 2018, rising water levels, large boat wakes and wash-overs from storms had mostly depleted the once approximately 20-acre island, and birds stopped nesting for the first time since 1979, the first year it was high enough to be used as a breeding site. Once signs of erosion appeared, conservation groups didn't want to see this special place lost. An opportunity to save Crab Bank arose with the Charleston Harbor Deepening Project, which aims to deepen the shipping channels to 52 feet by 2021.
Audubon SC worked with SCDNR, CEF, the Coastal Conservation League (CCL), South Carolina Wildlife Federation and the Army Corps of Engineers Charleston District on determining how to restore Crab Bank using dredge material. The deepening project's dredging contract now includes an option to "allow the placement of approximately 660,000 cubic yards of sediment within the historic footprint of Crab Bank" in lieu of depositing the material in an EPA-approved disposal area offshore. The total project restoration cost is $377,000, and the local cost share required fundraising 35% of that figure, or $132,000.
Conservation groups devised a strategy to make Crab Bank a reality by establishing the South Carolina Coastal Bird Conservation Program (CBCP), an SCDNR-managed fund that can receive donations, draw interest and help finance critical projects to protect coastal birds. Their funding goal was achieved primarily through a National Fish and Wildlife Foundation grant, written by Schillerstrom, in addition to donations from businesses like Boeing and BP, private individuals and students, including $675 contributed from a Moultrie Middle School fundraiser. The Corps is supplying the remaining $245,000 needed for the project.
Crab Bank's revitalization begins in Fall 2021, and completion is expected by the 2022 nesting season. When finished, it will restore approximately 28 acres of prime nesting habitat above the high tide line for coastal birds. "The Crab Bank restoration effort is a perfect example of what agencies, nonprofits, businesses, local leaders, students and citizens can accomplish for conservation when they work together," remarked CCL Executive Director Laura Cantral.
While this specific endeavor will save Crab Bank, the CBCP's creation means that this collaboration was about something bigger, noted both Crolley and Riggin. The CBCP is an interest-bearing trust developed to fund coastal bird conservation in perpetuity. "Crab Bank is not the only time we will do this," Crolley said. "[The CBCP] may be the most important conservation work that we do in our lifetimes."
Part of the NFWF grant is also allowing Coastal Expeditions to offer guided Crab Bank boat charters and kayak tours to provide educational outreach on the seabird rookery at no cost to participants. Crolley said providing these trips addresses the issue of how to keep the community involved in the process. Coastal Expeditions, which is based in environmental education, takes out school and conservation groups as well as the public.
For Crolley, this partnership afforded the opportunity to help spearhead the preservation of a place of profound personal significance to him. "I have an intimate relationship with Crab Bank," he said. "It's part of my life's work. Being able to do something about it was very important to me."