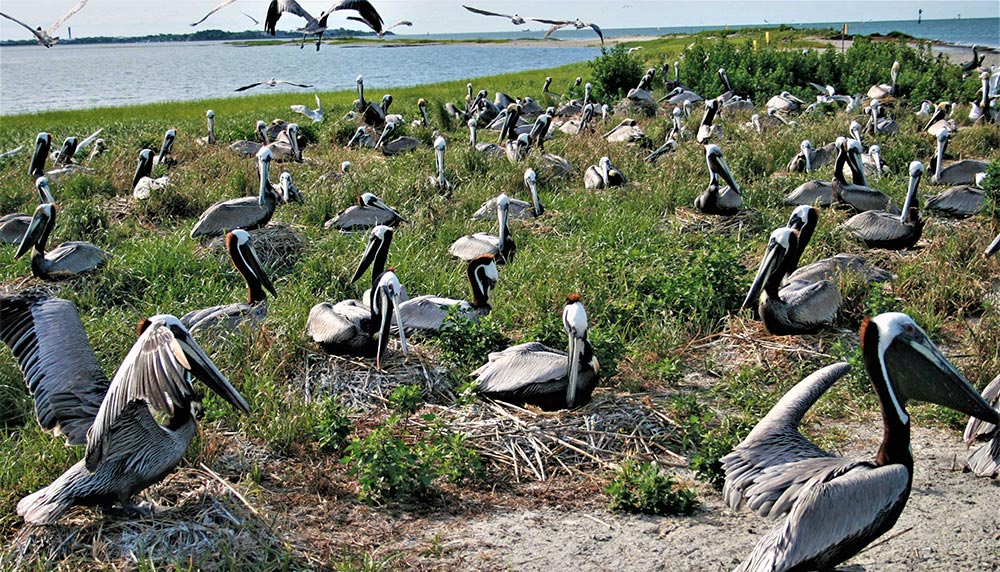 On the boat ride to Crab Bank, Audubon South Carolina Coastal Programs Coordinator Nolan Schillerstrom paraphrased the famous "Field of Dreams" quote when describing conservation partners' attitude toward the island restoration's anticipated impact on sea and shorebirds: "If you build it, they will come."
That is the expectation for the project to rebuild Crab Bank Seabird Sanctuary, a critical bird rookery located near the mouth of Shem Creek. The dredge spoil island, believed to have originated from dredge material sometime in the 1950s, succumbed to erosion in 2018. Construction begins this fall, with completion expected by the 2022 nesting season, March 15 to October 15. Norfolk Dredging Company, the contractor overseeing the restoration work, will use dredge material from the Charleston Harbor Deepening Project and place approximately 660,000 cubic yards of sediment from the deepened channel within the historic footprint of Crab Bank.
When finished, it will renourish approximately 28 acres of prime nesting habitat above the high tide line for coastal birds. Currently, about one half-acre of Crab Bank is visible at low tide and the erstwhile island turned sandbar is submerged during high tide.
There is reason for optimism. At its peak, Crab Bank supported more than 5,000 nesting birds a season. One of only five South Carolina Department of Natural Resources-designated (SCDNR) seabird sanctuaries in the state, Audubon has also designated it a Globally Important Bird Area. Brown pelicans, royal terns, sandwich terns, black skimmers and American oystercatchers had historically nested here before storms and erosion washed it over.
Within the last two decades, the maximum number of royal tern nests tallied at Crab Bank in a single breeding season peaked at a whopping 2,661, according to SCDNR Coastal Bird Project lead Felicia Sanders. One year's breeding count recorded a high of 1,682 brown pelican nests. Black skimmers, whose state populations are declining, had just 500 nests in South Carolina in 2020. SCDNR once documented upward of 200 skimmers' nests at Crab Bank. "We're concerned about skimmers, and we're excited to have another nesting area," said Sanders.
Besides helping birds, Crab Bank will benefit Mount Pleasant homeowners by serving as a buffer against wind and waves and providing protection against storms, explained Schillerstrom.
The restoration has involved a broad public-private partnership that includes Audubon South Carolina, SCDNR, the Army Corps of Engineers, the Town of Mount Pleasant, Coastal Expeditions Foundation, the South Carolina Coastal Conservation League, businesses and citizens.
Sanders lauded the fundraising efforts of Audubon SC, Coastal Expeditions Foundation and the Coastal Conservation League that were instrumental in resurrecting Crab Bank, citing donations collected and a pivotal $700,000 grant Audubon SC obtained through the National Fish and Wildlife Foundation's (NFWF) National Coastal Resilience Fund (NCRF). "Crab Bank brought together so many resources so we could expand our scope and do a better job of protecting birds," said Sanders.
More significantly, the collaboration established the South Carolina Coastal Bird Conservation Program (CBCP), a SCDNR-managed fund that can receive donations, draw interest and help finance critical projects to safeguard coastal birds. It was formed because SCDNR needed a mechanism to accept Crab Bank's monetary contributions, but it will fund future coastal bird conservation endeavors as well.
The NFWF grant was intended to cover Crab Bank's rebuild costs, but Norfolk's accepted construction bid required a considerably lower than expected $132,000 local match, noted Schillerstrom. Those leftover $568,000 in funds are being reallocated to SCDNR, which owns and manages Crab Bank and is primarily responsible for its stewardship. But they will have assistance, working with conservation partners such as Audubon SC. Sanders called it "one of the most exciting things in her career" to witness the partnerships that Crab Bank created, relationships that will result in "more eyes on the colony and more people invested in protecting our birds."
Once restoration is finished, SCDNR will use remaining grant funds to conduct biological monitoring — counting bird nests through aerial photography to avoid disturbing the breeding colonies — and physical monitoring, such as evaluating changes in size to Crab Bank. Additional monitoring will assess economic factors such as quantifying recreational value and wave and storm mitigation value.
A grant fund portion will continue covering complimentary guided trips to Crab Bank provided through Coastal Expeditions, which increase community awareness of the sanctuary's significance. Additionally, the grant is paying for a videographer to document the project.
Schillerstrom expressed hope that Crab Bank's collaborative partnership approach will serve as a conservation model to replicate throughout the state. "It's great to see it finally coming to fruition," he said.