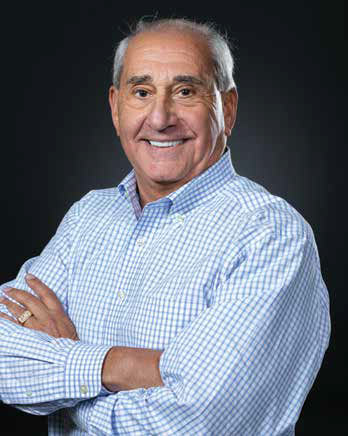 For homebuilder Chuck Lattif, being in the right place at the right time and cultivating relationships has always paid off. As president of Coastal Premier Homes, an independently owned franchise of AR Homes, Lattif builds custom homes for executives in Charleston — but let's roll back a few decades to 1990 in Delaware, when Lattif first met the Biden family.
Lattif first became friends with Jim and Michelle Biden, President Joe Biden's brother and former sister-in-law, in the late 1970s. It was through his relationship with them that he met then-Senator Joe Biden. In fact, he often ran into him on the train during his occasional commutes to Washington. From that friendship grew the opportunity to build Joe Biden's new family home, and, in 1997, Lattif submitted and won the bid to build a custom residence for the Bidens.
"I spent eight months working with the Bidens to locate and procure the perfect homesite, a parcel set back from the road on a man-made lake," Lattif said.
President Biden designed the home himself, then worked with an architect to get the plans on paper. During the 12 months of construction, he visited as much as time permitted. The result is a classic stucco colonial home that has stood the test of time. A favorite feature for Lattif is an exquisite wood-paneled study, installed by custom craftsmen.
Chuck Lattif on the VOICE for Real Estate Podcast
Curious? You'll have to picture the home in your mind, as Lattif never allowed photographs to be taken.
"He appreciated my respect for his privacy and I never took advantage of this trust," Lattif said. "One of the most important things about knowing the Bidens is that they are a very close family, and President Biden is the same in person as you see on TV. He's always meeting people, talking to them and engaging with them. He's a normal, caring and respectful guy.
"While building his home, we would go to lunch. No matter what time of day, he always wanted to go to a local place where he could be among the working folks of Wilmington. Always a quick meal, inexpensive and never anywhere pretentious. People would say hello to him, and he would always take time to talk to them," he reminisced.
"Something that has always stood out to me all of these years is that President Biden went the extra mile for my oldest daughter. He sponsored her to be a senate page while in high school, and she later worked on his reelection campaign. He didn't have to do that. I always believed and appreciated that he took care of her because I did a good job on his home."
Since 2013, Lattif has built custom homes in Charleston and Mount Pleasant with the same measure of attention he provided the Bidens. Typically, homes in the Lowcountry have a coastal style rather than the classic colonial style of the Biden residence, but customization and quality remain the cornerstone of each.