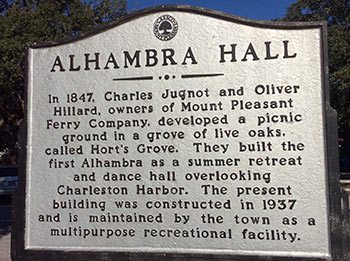 As the new century unfolded, Mount Pleasant's rural identity began a metamorphosis. The lone hamlet of Greenwich, once surrounded by .miles of woods and farmland, would be joined by three other small settlements. New industries would appear, and the harborside community would become a hub of activity.
Greenwich Village had been established in 1765, with 50 waterfront acres carved into residential lots and streets named King, Queen, Pitt and Bay. Another 50 acres of woodland, designated as the Common, provided accessible firewood for residents. It was bordered by Pitt, McCants, Boundary and Morrison Streets. Pubs called the Snuggery and Scott's Tavern helped to complete the quaint scene.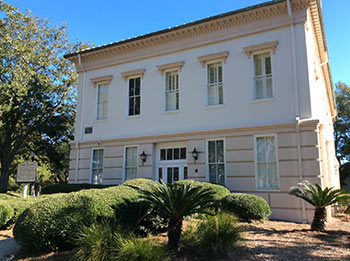 Nearly 40 years later, Jacob Motte's plantation, named Mount Pleasant, was acquired by James Hibben, who divided the land into 35 residential lots with five streets — Beach, Bennett, Whilden, Boundary and Venning — and aptly named his community Mount Pleasant. When this little village merged with Greenwich in 1837, the town of Mount Pleasant was incorporated.
A decade later, Hilliardsville, surrounded by Pitt, Middle, Center and Royall Streets, was developed by Oliver Hilliard and Charles Jugnot. A brick boundary marker, known as Hort's Pillar, was located near the corner of Bay Street and McCants Drive to separate the communities of Hilliardsville and Mount Pleasant, although local legend ascribes that the marker was erected in memory of two lovers, whose union led to a tragic end. A public picnic ground, complete with swings and a carousel and known as Alhambra Park, was also established, and regular ferry service was added. Hilliardsville was annexed to Mount Pleasant in 1858.
Since 1835, the area bordered by Shem Creek, Hibben, Boundary and Bennett Streets had been known as Lucasville, named for Jonathan Lucas, who built the area's first water-driven rice and saw mills at Shem Creek 40 years earlier. Lucasville joined the town of Mount Pleasant after the Civil War.
In the fall of 1860, a public meeting was held in Ronkin's Tavern, where attendees determined that Lincoln's election as president was "sufficient cause" for secession. This may have been the first secession meeting in the state — even before the state's official convention took place in downtown Charleston that December. Three years later, the crew of the Confederate submarine H.L. Hunley lodged at Ronkin's Tavern while preparing for their secret mission from Breach Inlet.
During the war, a small battery was built in the village, and Fort Palmetto was established at Dewees Creek. A defense was also constructed from Elliott's Creek at Boone Hall up to Copahee Sound. When the Union blockaded the harbor, blockade runners dropped off their cargo at Bull's Bay for pick-up. Confederate dead were laid to rest at a small cemetery on Carr Street. A monument honoring local soldiers who died during the War of 1812 was later added.
After the Civil War, a public cemetery called Ocean Grove was established, with Hallelujah Lane separating the graves by race. Three Black churches — Baptist, Methodist and Presbyterian — were organized. Laing School was founded by Quakers from Philadelphia, who paid teachers' salaries until Laing became part of the public school system in 1940.
Mount Pleasant Academy had been in operation since 1809, funded through a bequest from Elizabeth Fleming, whose will stipulated the money for the purpose of educating poor white children. The Academy was housed at various locations until 1895, when it moved into the vacant court house. The building's former prisoner lock-up was used to punish misbehaving students.
The post-Civil War economy demanded new business enterprises. A tile factory and brick factory were in operation at Shem Creek by 1883, and an oyster factory not long after. A number of stores, owned mostly by German families, sprang up near Ferry Street. Businesses also tried to garner income from tourism. A hotel opened in the village in 1878 — an attempt to attract northerners during the winter — and the town boasted "all the attractions of Cape May, Aiken and Jacksonville." With frequent dances, picnics and sailing parties, an 1892 newspaper article proclaimed that the allure of Mount Pleasant rivaled the famous New Brighton Hotel on Sullivan's Island.
But locals seldom traveled more than 20 miles from home. Farmland still dominated the landscape. Many landowners chose to live in the village and commute daily to their farms, since the village afforded a full social life. The St. George and British Masonic Halls were prominent gathering places. The Little Theater was in operation, initiated by the Lutheran Church. Townsfolk played the popular card games of Whist and Euchre. And there was the Sunday afternoon stroll along "the front beach," at the harbor's edge.
When the colony was first established, Mount Pleasant had been part of Berkeley County but was later annexed to Charleston County. In 1882, Mount Pleasant again joined Berkeley County and became the county seat. The courthouse — now the Darby Building — was built on King Street, out of bricks from the Venning family's brickyard plantation. But the Berkeley County seat was moved back to Moncks Corner in 1895. The Vennings claimed they were never paid for the bricks, because the two counties could not agree on who should be responsible for payment.
In 1886, the town's 740 residents were shaken by a 7.3 magnitude earthquake. Vacant lots became refugee camps, as the smell of sulphur hung in the air. But natural catastrophes of another kind were much more common: a total of fifty hurricanes and tropical storms swiped or bashed the coast during the 19th Century.
The Spanish-American War in 1898 posed a different type of threat from the sea. Although our area saw no military action, signal masts using flags and lanterns were erected in Mount Pleasant to relay information to the city, in case of an attack. The town militia, the Chicora Rifles, kept a training boat at the mouth of Shem Creek and drilled once a month on a vacant lot.
The ferry house burned in 1898, and the ferry began operating from the foot of Hibben Street. Soon, bridges would be built over Cove Inlet and Breach Inlet, and a trolley service would be added from the village to the islands. Even more changes were on the horizon — the Cooper River Bridge would be built a few decades later. Mount Pleasant was about to enter the modern era.
by Mary Coy