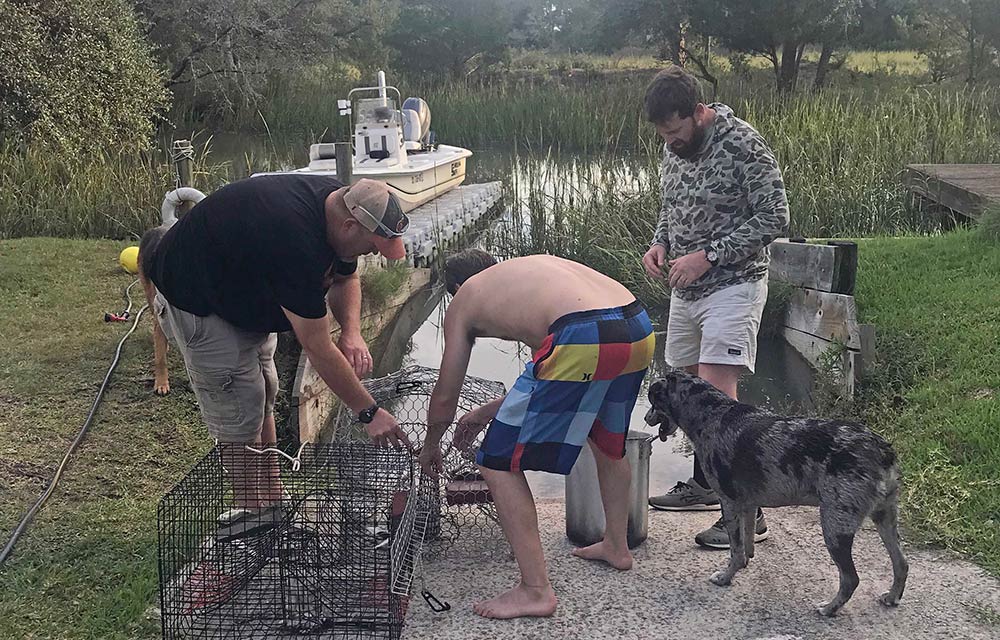 For a Marylander — a Chesapeake Bay Marylander at that — being cynical about "Charleston blue crabs" has always come with the territory. If charged with the decision between Shore Boys cream of crab soup and the absolute best South Carolina she crab soup (don't get me started on the "she" part), my taste buds would select the Shore Boys soup 10 times out of 10. I mean, do I want my cream and butter with a half-pound of sugar-sweet jumbo lump crab meat sprinkled with the oh-so-delicious Old Bay Seasoning? Or do I want soup with a couple of shoe strings of claw meat and sherry?
But it's not just about the soup or even the almost-sensual flavor that the brackish Chesapeake water gives my favored Maryland crabs. My Carolina crab facetiousness comes from being the child of two marine biologists who studied the bay for their entire careers. Perhaps I'm biased, but as a son of scientists, I know that pesticide runoff from local farms into the bay's tributaries has adverse effects on water quality, in turn limiting SAV (submerged aquatic vegetation) growth. Eventually, with no SAV to eat, the bay was left with a weakened ecosystem, and — you guessed it — a diminished blue crab population. Yeah, my parents pretty much fixed that.
So, I guess I do have a somewhat stable foundation for blue crab knowledge. All of this said, I've never had more fun catching, cooking and eating blue crabs than I did this past summer in Charleston, South Carolina. Here's my story.
It all started like any other summer morning on a Saturday. By 8 a.m. I was engulfed with a thick, wet heat and a laundry list of yard work to accomplish. By 9 a.m., I was bored and ready for some fun. I peered over at my 17' Carolina Skiff, which sits atop a floating dock in my backyard's tidal creek.
A glimmer of rust sticking out from a puff of pluff mud caught my eye. I walked over and made out an old crab trap that we purchased from a yard sale years ago. While this trap was certainly no longer of use, the thought "I am going to catch some crabs today" had been cemented somewhere deep in my purview.
With that, my to-do list was officially erased, and I hopped into the car to purchase two crab pots, buoys and chicken necks at Haddrell's. An hour later, I was right back where I had been standing — bring on the crabs! "As a Chesapeake Bay son of scientist and true, blue Marylander, this should be no problem," I thought to myself.
Insert a barking, barely tamed dog, sun-melted chicken as bait and a couple of social lubricants and … it turned out I'm not quite the crab-catching-man I may have previously billed myself as. Nonetheless, after nearly tangling the trap's line in the propeller, I succeeded in setting both traps just up the creek where the water does not dry up at low tide. With that accomplished, I headed back to the dock to wait for the tide to cycle.
By 5 p.m., my group of cohorts had meandered over from their Lowcountry abodes for some Saturday afternoon shenanigans. Little did they know I had quite the surprise up my sleeve. By 6:30, the evening tide had rolled back up our creek, filling in the gaps of spitting mud and lonely sweet grass. I quietly recruited a couple deckhands to mate the skiff and silently pushed off just as the Gamecocks scored an at-home preseason touchdown — unbeknownst to us.
As the skiff fought the incoming tide, we cornered a bend and I noted the yellow buoys for the mates to grab. After a miss or two, the first buoy was finally wrangled in, and as the wire trap reached the surface, I could make out one, two, three — no, SIX blue crabs!
"Hoist them on board!" I shouted to my first mate, thrilled.
With one pot secured and that Chesapeake glimmer in my eye, I headed for our next pot. "Approaching on our starboard!" I exclaimed, really starting to get into character.
The second mate hauled in this pot, and as the trap neared the surface I saw it brimming with blue crabs. As it was hauled on board, I ripped off my shirt and tied it around my head, thinking it would add to my crab-man heroism.
As luck would have it, we returned to the party with nearly two dozen crabs. As we swiveled down the creek toward my house, I yelled to the rest of the dockside party to prepare the steamers and fetch the Old Bay. "We've got some crabs to cook!" I called out triumphantly.
We hoisted the pots from the boat and onto the dock and the crowd went wild! I felt as though I was being hailed as an astronaut returning from the moon or Michael Jordan winning his sixth championship.
The pandemonium persisted for another half-hour or so, until the crabs were steamed to a deep red and caked appropriately with seasoning. We placed Old Bay, cheddar cheese, pickles and vinegar on a table covered with newspapers. The feast was set up just the way it should be. With a Bud Light in hand, I began to pick, pile and hoard my crab meat.
Two bites later, I smiled as I sucked off a mixture of yellow inerds and sea salt from my fingers. "Maybe these South Carolina crabs aren't so bad after all" I pronounced to a table full of agreeing friends — Charleston friends, that is.
By Cullen Murray-Kemp