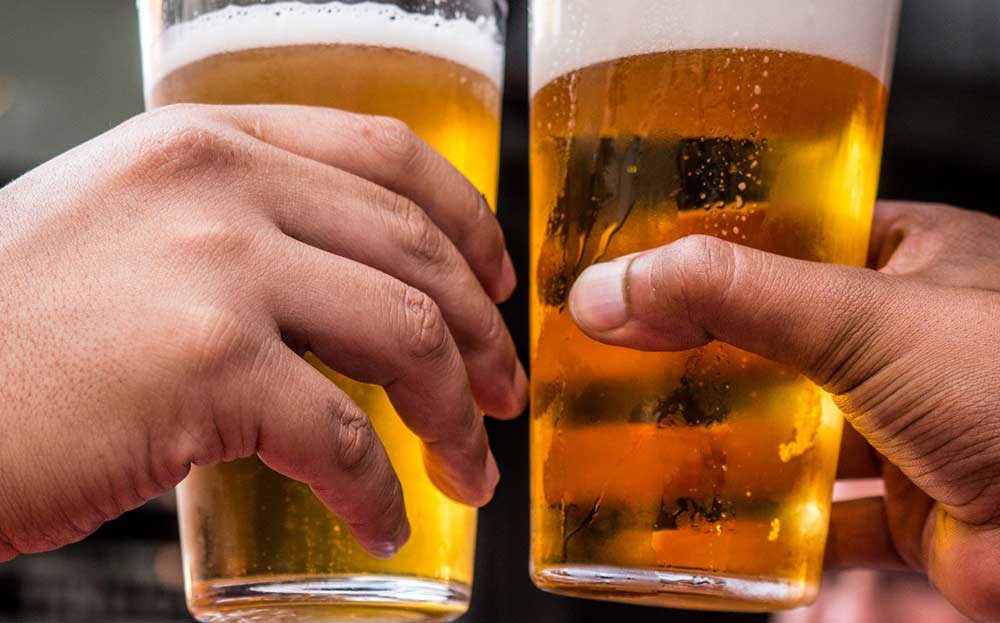 While we really don't need a reason to celebrate beer along the coast any time of the year, this German tradition — festivities inspired by a Bavarian royal marriage in the early 1800s — has been adopted the world over. The Charleston area happens to be home to many local breweries who take their craft very seriously. Here is a selection of home-grown brews to try this fall, along with some sound pairing suggestions. Feeling inspired in the kitchen? We have two seasonal crudité and dips for you to try, with a few easy shortcuts if you are pressed for time. Hop to it!
Oktoberfest by Edmund's Oast Brewing Co.
Flavor Profile: We use 100% German ingredients: malts from Weyermann Malts and all-German-grown hops. This lightly toasty and honeyed lager beer has spicy European hop aromas and a crisp and refreshing finish.
Food Pairings: We strongly suggest our house-made smoked hot dog. Of course, pretzels, roasted chicken and anything from the grill would be wonderful.
Brewery Note: We prepare all of our meats in-house, including the cured charcuterie program. We now have an additional courtyard area for The Taproom at Edmund's Oast Brewing Co., as well as inside and outside dining. Kids and dogs are welcome.
Exosphere by Fatty's Beer Works
Flavor Profile: This is a sour IPA that we are repeating from last year because of its superb success. It tastes like a mixed berry milkshake and strawberry carnival cotton candy.
Food Pairings: With a beer on the sweeter side, think salty meats, tangy cheeses like blue and goat, omelets and fresh fruits.
Brewery Note: We are a production brewery and taproom with beer meant to be enjoyed in a unique yet comfortable environment.  Located in downtown Charleston, we focus on hazy IPAs, sours and lagers.  We're open every day.
Oktoberfest by Coast Brewing Company
Flavor Profile: Made with all organic malts and Hallertau and Hersbrucker hops, this slightly hazy, dark copper pour is fairly sweet with earthy chocolate, caramel and bread notes. It's a malt-forward ale that beckons fall.
Food Pairings: Let's keep it traditional with a German sausage or a pretzel.
Brewery Note: We are an organic, family-owned brewery founded in 2007. Our hours are limited right now while we build out a proper taproom.
Folksfest by Commonhouse Aleworks
Flavor Profile: Our copper-colored fall lager is in the style of a Märzen with a rich and toasty flavor to help ring in autumn. It has warm bread, malty, subtle toffee flavors.
Food Pairings: Schnitzel, bratwurst, pretzels, mustard, roasted chicken, sandwiches, waffles…actually, we'd drink this beer with just about anything.
Brewery Note: We are a community impact organization, and a portion of every Commonhouse beer sold is donated back to local community groups. Come join us for beer and food every day but Monday.
Death by Mangos by Ghost Monkey Brewery
Flavor Profile: Inspired by mango habanero chicken wings, Death by Mangos is brewed with caramunich malt to achieve that hauntingly red tint just in time for the spooky season. It is hopped with summit and citra to achieve a bright citrus hop flavor and help complement the notoriously hot Carolina reaper peppers that are added to the beer. It's an insane amount of heat, yes, but also a pleasant fruity and citrusy taste. Then, it is all perfectly balanced with the sweetness and aroma of mangos.
Food Pairings: Wings — preferably the mango habanero chicken.
Brewery Note: The name of the brewery was inspired by a business trip to Gibraltar where a monkey appeared out of nowhere and snatched one of the owner's bags full of souvenirs.
Cuban Lager by Rusty Bull Brewery
Flavor Profile: This beer was developed to be an excellent companion with a fine cigar.
A crisp, dry lager profile meets citrus provided by Mandarina Bavaria hops.
Food Pairings: This beer pairs with pizza, poultry, and popcorn.
Brewery Note: Our taproom has a variety of our beers and includes a kitchen plus a full view of our production facility. This beer will be available at all Charlestowne Tobacco shop locations, as well as in our taproom.
Sweet Potato Pie Porter by Palmetto Brewing Company
Flavor Profile: Layered with rich chocolate and caramel malts, this silky-smooth milk porter is jam-packed with Carolina-grown sweet potatoes, chopped pecans, vanilla and cinnamon. The beer showcases flavor notes of dark chocolate, marshmallows, brown sugar, candied nuts and Southern holiday comfort food at grandma's house.
Food Pairings: Pair it with roasted and smoked meats, salty foods and any dessert with chocolate, peanuts or toasted notes to it.
Brewery Fact: Palmetto Brewing Company is South Carolina's oldest brewery, and we release over 70 beers each year.
For more information about Oktoberfest events in Charleston, visit oktoberfestcharleston.org.