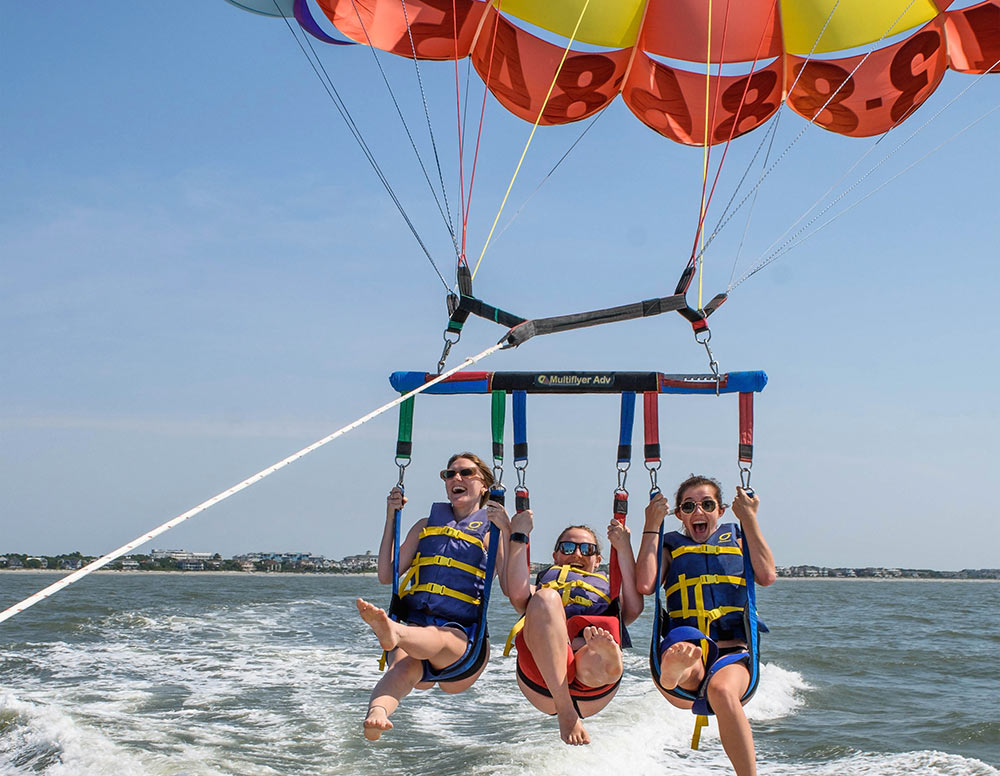 My Monday mornings are usually packed with getting the kids ready for school, hurrying them out the door, getting a little cleaning done and then plopping myself down at my laptop for some emails as I prepare for the weekly Monday morning Zoom call.
But not on May 24.
On that Monday, something different was taking place — I was getting ready for a parasailing trip with Tidal Wave Water Sports. I was to report to the Isle of Palms Marina at 10 a.m.
The weather was perfect. Hot, but not too hot. Windy, but not too windy. There were clear skies for miles. It was a great day for a boat ride. The photographer and I arrived at the dock to board the boat, and we were introduced to the three victims — I mean, participants — who would be hoisted up into the parasail, about 200 feet into the air. They were quite happy to do it, however — excited, in fact.
Alex Brown from Tennessee, Ella Walsh from Colorado and Katie Burke, who is local and actually works at Tidal Wave Water Sports, all attend the University of South Carolina and were just beginning their summer break. They collectively maneuvered themselves into their harnesses to await their flight, otherwise known as their parasail adventure.
As we took off from the landing, the boat rode us along the Isle of Palms and Wild Dunes intracoastal waterways. We were headed out to the open ocean, but this route could have also taken us to well-known barrier islands – Capers, Bulls and Dewees.
To say it was beautiful is a bit of an understatement, and to think that the owners of Tidal Wave Water Sports – twin brothers Michael and Mark Fiem — get to do this every day, is mind-blowing. They definitely have the right idea when it comes to "going to work."
Before the parasail adventure began, I asked Katie why she liked working for Tidal Wave. She simply said, "I get to spend my summer out on the water. Who wouldn't love to do that?" Touché.
It was Ella and Alex's first time parasailing and first time out on the Atlantic. They were nervous but thrilled. Michael Fiem explained that the idea is for the parachute to have a "dry takeoff and landing" — as much as possible, that is. Ella, Katie and Alex would likely be participating in the parasailing "dip and dunk," meaning they'd get dunked just a bit into the water on their way back down to the boat. Michael explained all of that to them before sending them up into the sky to fly with the gulls.
Three sets of legs dangling from a colorful parachute whizzing by the coastline tends to garner attention — so much so, in fact, that Fiem said when the parasailing adventure passes the Isle of Palms pier area, he has to warn the office that they need to be standing by the phones. "The phones just ring off the hook because we have our number displayed on the parasail." Talk about good marketing!
While parasailing is a popular activity at Tidal Wave, the jet ski safaris are probably the most sought after. These guided jet ski tours take guests out to the aforementioned barrier islands. Tidal Wave also offers water skiing, wakeboarding, tubing, dolphin-watching and charter boat cruises. They also have a second location at the Seabreeze Marina in downtown Charleston, at 50 Immigration Street.
Captain Mike Malley at Tidal Wave Water Sports said he has chartered about 150,000 boating adventures in his tenure with the company. The Fiem twins officially opened Tidal Wave Water Sports in 2006.
Captain Malley and the Fiems all hail from Pittsburgh. They spent their summers working in Ocean City, Maryland, which, Michael admitted, was where their love for the sea began.
After high school, the Fiem brothers went on to earn engineering degrees. It was Mark who first made his way to Charleston, attending Charleston Southern University for his MBA. "Mark got a job at the Isle of Palms Marina, and we decided to buy the business in 2005," Michael said.
The rest is history. The Fiem brothers take their role seriously out on the open ocean and have been known to rescue people who get stuck trying to hang out on sand bars. They are avid members of the National Parasail Safety Council and attend a meeting every year.
When Ella, Katie and Alex came down from their parasailing adventure, they were all smiles. Alex admitted she was scared at first but then said, "It is so peaceful up there. You can't hear the sound of the boat. It is quiet, and you can see everything for miles and miles."
Ella enjoyed Katie's little tour as she pointed out buildings in the distance. "It is a view like none other," she beamed.
As we headed back to the dock, I forgot about my own looming to-do list and settled back to enjoy the sea breeze and salty air for a little while. Not too shabby for a Monday.