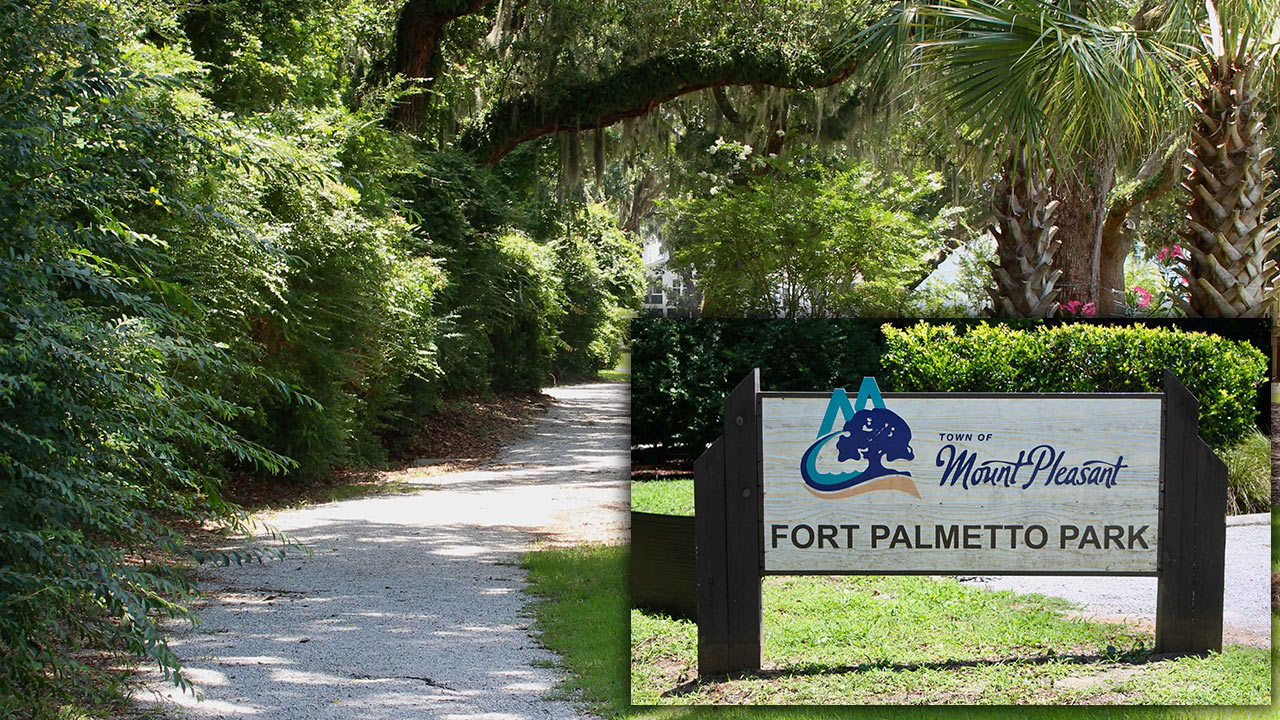 Most Mount Pleasant residents know about Palmetto Islands County Park, but for those looking to avoid the throngs, Fort Palmetto Park, with its picturesque marsh views and interesting history, provides a less crowded and free recreational alternative.
Located off Six Mile Road at 2213 North Palmetto Fort Drive, Fort Palmetto flies under the radar as a cultural site, so you're probably unfamiliar with it unless you've spoken with someone who's been there or randomly stumbled upon it.
Once you arrive at Fort Palmetto, there is a small parking area, and no entry fee is required. The park features a wide 1.5-mile round-trip graveled path for walking and biking. Like many trails along the South Carolina coast, this path is characterized by level terrain suitable for all ages and skill levels. The dog-friendly path is accessible year-round, and amenities such as benches, trash cans and pet waste stations dot the trail.
The park is also a nice spot for bird watching and wildlife viewing. There are never any guarantees in observing nature, but this lucky adventurer spotted a brilliantly colored male painted bunting; glimpsed a fluttering ruby-throated hummingbird; watched two crows chasing and harassing a red shouldered hawk; and saw a "descent" of three pileated woodpeckers hammering into a tree. The trail closely abuts the Oyster Point neighborhood, passing by stately oaks and small ponds where you might observe herons, egrets and turtles.
As you meander past longleaf pine and Spanish moss-draped oaks, you'll encounter a series of historical markers chronicling the strategic role coastal defenses like Fort Palmetto played during the Civil War. Confederate Commanding General Robert E. Lee supervised the design and construction of South Carolina's coastal defenses, including what's known as the Christ Church Lines, which extended 2.5-miles and were erected over the course of only two months in 1861, using grueling slave labor from area plantations. Fort Palmetto was a three-gun battery, created to fortify the eastern end of the Christ Church Lines, overlooking Copahee Sound and Dewees Inlet. This earthwork fortification measured 160 feet long and 80 feet deep with a parapet 15 feet tall and a 25-foot-tall powder magazine.
Located between Isle of Palms and Dewees Island, Dewees Inlet had, by virtue of its depth, been identified as a possible access point for federal ships coming in from the Atlantic that could be vulnerable to attack during the Siege of Charleston. Fort Palmetto was strategically placed to prevent any Union ships from using the inland waterways to land troops near Mount Pleasant and advance on Charleston. A company of the 20th South Carolina Volunteer Infantry garrisoned Fort Palmetto for much of the war.
Its formidable defenses were armed with one nine-inch Dahlgren gun and two 32-pound rifled and banded guns, the latter of which boasted a range of more than four miles, reaching all the way to Dewees Inlet. While it suffered damage and erosion over time, remnants of the three gun positions and the powder magazines are still clearly visible, accessible via a side path.
Eventually, the park's main trail winds toward the marsh, ending at an elevated wooden observation platform, which provides expansive views toward Dewees Inlet and the inland waterway.