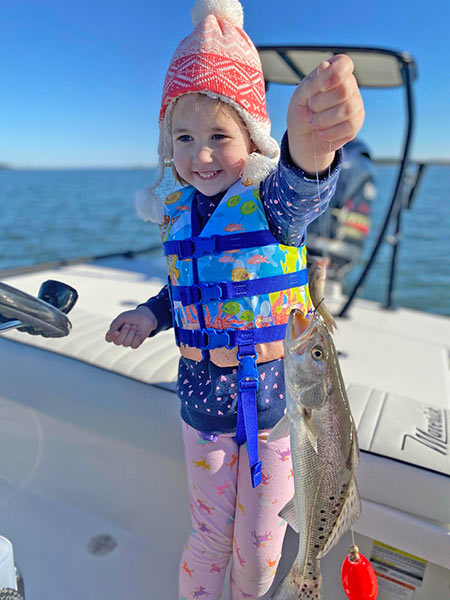 Summer is here, and after nearly two years of huddling in our homes amid the pandemic, we're eager to get outdoors to enjoy the many recreational opportunities afforded to us by the beloved Lowcountry.
There's tennis and golf, of course — biking and hiking as well. But what about an outdoor activity that the whole family can enjoy? How about one that can teach lessons about nature and quality time, while also offering a potential payoff?
With water all around us, whether fresh, brackish or full of salt, there is always a place to drop a line. Whether you believe in "catch-and-release" or bringing home a creel filled with your dinner, it's a sport and pastime anyone can enjoy at many different levels. Fishing can be a light hobby or a deeply practiced passion. Either way, these local waters are your playground.
For an expert perspective on Lowcountry fishing, Mount Pleasant Magazine turned to Captain Mike Able. He's the second "Captain Mike" and current owner of Haddrell's Point Tackle and Supply, located on Ben Sawyer Boulevard. Haddrell's has been serving the fishing community of Mount Pleasant and beyond since 1983 and is still family-owned. Captain Mike grew up in the business and on the shorelines.
"One thing I always emphasize for newcomers to Lowcountry fishing," Captain Mike said, "is how good it is year-round. You may want to alter the species you're going after, but our Lowcountry waters offer so much throughout the whole year."
In June and July, he suggested, anglers regularly catch redfish, trout, flounder and more. Offshore, the fishing targets are marlin, sailfish, king mackerel and wahoo. Even bass can be caught in some local ponds.
Fishing is ideal not only because of the favorable climate, but because even young children can come along for the fun. Captain Mike has two young daughters, aged 3 and 5, and regularly takes them fishing.
"The trick is to make them plan an outing; she goes over the nautical charts with me to find the best places to fish for what she wants to catch. You have to make fishing age-appropriate My 5-year-old doesn't fish for tarpon," he chuckled. "More likely redfish or croaker."
"Even when we go to the beach, I bring a little rod. When the kids are tired of catching waves, I'll put on a piece of cut shrimp, and they'll have a ball going after whiting and stuff," he added.
Captain Mike said that Hadrell's makes it quick and easy to learn the basics of fishing.
"We do seminars on Lowcountry fishing at the store and on our website," he noted. "And lots of great guidance and tips are available to everyone on our YouTube channel."
If you're looking to get in a little deeper and get out beyond the family-friendly shoreline, Captain Mike suggests renting a kayak to learn if that platform is right for you. Then, if you decide to become a boat owner, he recommends a good 22- footer.
He said, "You can take more people and go in slightly rougher water, but you can still fish shallow creeks."
Two types of watercraft popular in Lowcountry waters are the flat-bottomed john boat and the outboard-powered Carolina Skiff.
Whether you're bringing home dinner or just bragging on the dock about the "big one" you caught and released, fishing is a Lowcountry outdoor attraction that's ready for you and the whole family. Haddrell's has classes to teach you what you need to know and can provide all the right gear, no matter which fishing journey you choose to make yours.
By Bill Farley