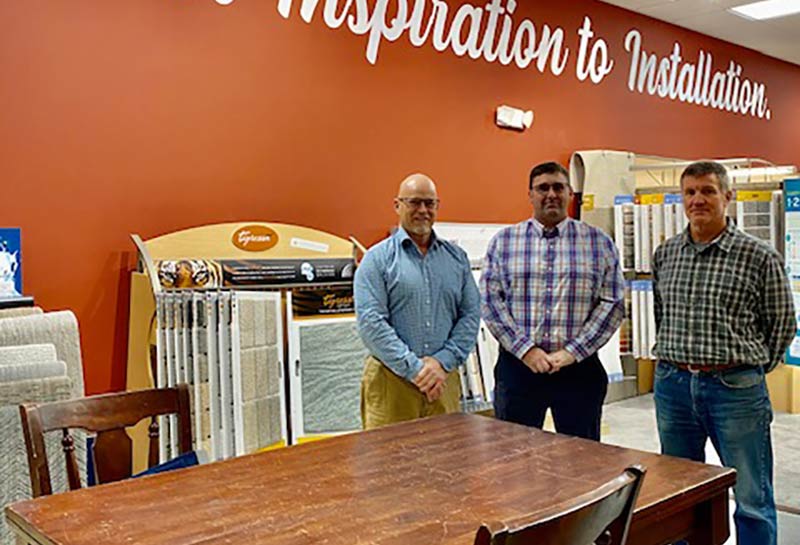 One of the biggest headaches of a home remodeling project can be selecting the right flooring — and the right people to install it. But there's no need to look any further than Carpet Baggers Carpet One Floor. With the company's decades of experience and commitment to making customers happy, they've got you covered.
Dean Kelly and his wife started Carpet Baggers 30 years ago. Stevie Leasure, one of Kelly's long-time friends, has been his business partner through much of this time. At this point, Kelly's father, sister, brother-in-law, daughters, their husbands and several other friends have all been involved in the business. Presently, there are 28 staff members and over 15 installation crews ready to floor you. And in the unlikely chance that a customer doesn't love the end result, the "Beautiful Guarantee" will rectify the situation.
Carpet Baggers began with most of its customer base comprised of builders but joined with Carpet One 14 years ago to expand retail opportunities. Customers now include homeowners, small business owners and anyone else who wants to put a fresh face on a space – even if it's just an area rug or replacing worn or damaged flooring. Kelly's team can handle the job, no matter how big or small. Commercial properties, rental complexes and resorts also look to them for all their flooring needs. That includes tile, hardwood, laminate, luxury vinyl and even custom-made rugs, which they make on site. If you want something that can stand up to what your kids or pets can dish out, they can help you find what you need. And if you are looking to create something unique for a backyard space or patio, they've got that covered too, with outdoor products like natural stone tile and an assortment of indoor and outdoor rugs and carpet.
At Carpet Baggers Carpet One, their focus is not limited to flooring needs. A variety of other building and home products — such as wall planks, backsplash tile, wall tile and shower tile — are also part of the inventory.
Some customers may need a little help in imagining the space they are looking to create, and that's no problem. They can look through a photo gallery of projects that Carpet Baggers has completed or get complimentary design assistance. And one look at the reviews and ratings submitted by former customers can assure new folks who will undoubtedly join the growing pool of satisfied customers.
As a home-grown and family-operated business, Carpet Baggers Carpet One has given back to the community through its support for the Ronald McDonald House, Carolina Youth Development Center, Lowcountry Special Olympics and MUSC Children's Hospital, as well as several local schools. And with free quotes and financing available, Carpet Baggers Carpet One has something for every budget.
So stop dreaming about what your home or office could be, and stop by for a visit with a member of the friendly and knowledgeable sales staff to help you turn your vision into a dream come true.
To learn more, visit carpet-baggers.com.
By Mary Coy