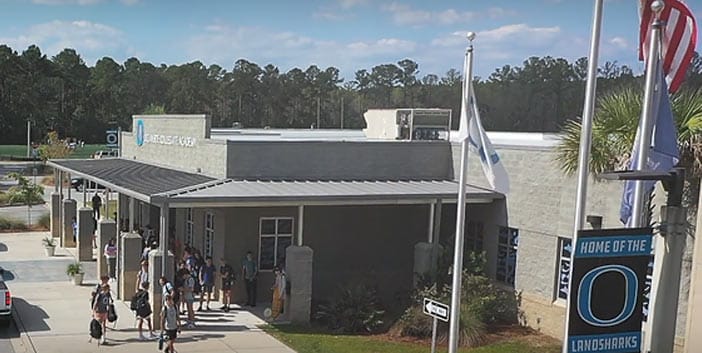 If you think it's impossible to go to high school and college at the same time, a look at Oceanside Collegiate Academy in Mount Pleasant will soon have you thinking in dual, trailblazing realms. Whether it's World Literature, U.S. History and Government, Algebra or any one of a number of sciences, Oceanside not only offers students in grades 10-12 courses to earn their diploma, it prepares them for higher education with the chance to earn up to two years (60 credits) of college coursework with instruction by college professors. While earning college credits, dual program students still must accumulate at least 24 units over four years to earn a diploma.
"Our motto of 'It's not college prep, it's college,' exactly defines our curriculum for upperclassmen," said second-year principal Christina Brown. "We partner with nearby Trident Technical College for the delivery of our dual enrollment college courses, which are held here on our campus. And the focus is for our students to qualify into the program and take advantage of this amazing opportunity to accrue college credit for free and be set up for success when they graduate."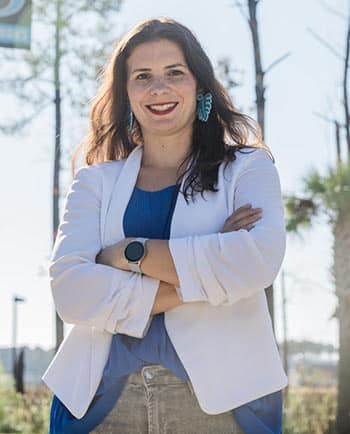 At the core of this dual focus is a balance between academics, athletics and home life. For example, Oceanside's academics run in two four-hour daily sessions — one in the morning and one in the afternoon. Therefore, only half of the current enrollment of 655 students is on campus at one time.
This arrangement allows all the athletic teams— which make up 21 different sports for both boys and girls—to practice during the morning or the afternoon session, so that when the final bell rings, all the students are free to leave at a much earlier time.
"The uniqueness of our modified school days allows our students to create their own daily structure and participate in extracurricular activities and still be home in time for dinner," Brown said. "Our courses are streamlined and sequenced in order to provide the most opportunities. But our model is a big undertaking that takes all of us to accomplish."
And that model is working. Since its opening in 2016, Oceanside Collegiate Academy has averaged an A+ graduation rate, with 99.4% in 2022, an average college placement rate of 90%, and, for its 2021 class, a cumulative savings of $3 million dollars in college tuition, textbooks and technology costs.
The sports teams are close behind academics, as the OCA Landsharks have grabbed 10 state titles in the past two years, including back-to-backs in girls' swimming, girls' soccer and boys' tennis.
"Our 2021 senior class was offered upward of $13 million in academic and athletic scholarships," Brown said, adding that Oceanside's model could one day become the standard for all U.S. high schools. "Schools like our academy continue to grow in South Carolina. I believe innovation and choice are necessary in education, and whether it's us or similar charter schools, it's wonderful for parents to have this kind of option."
For more information, please visit oceansidecollegiateacademy.org, or call 843- 936-7128.
By L. C. Leach III