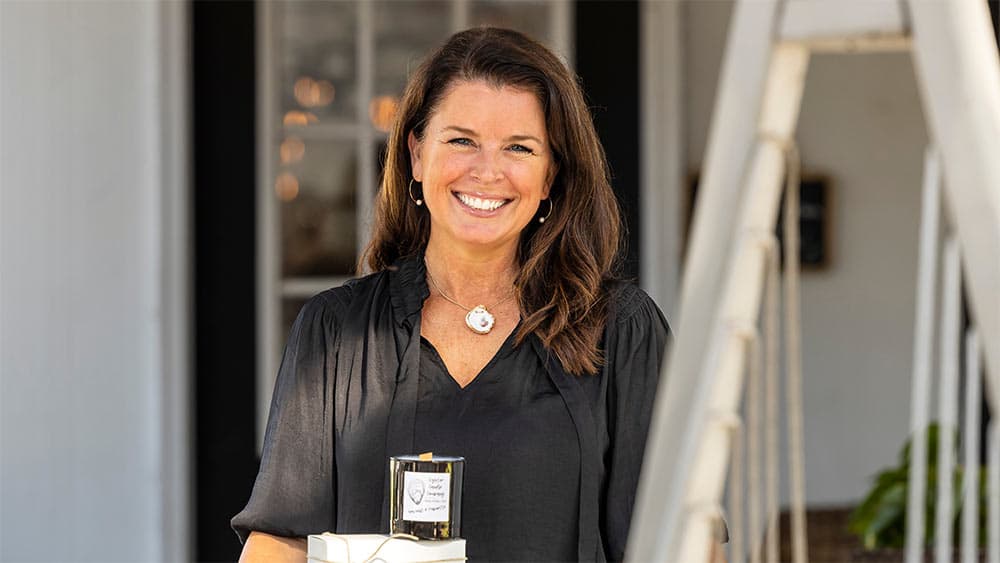 There is something quintessentially Southern about stepping inside Oyster Candle Company in Mount Pleasant. Maybe it's the little white antique home that houses the shop. It could be the way the front porch just invites patrons to come on inside. Perhaps it's the beautiful scents that instantly soothe the soul. It also might be the friendly hello from owner Shannon Gallo. More than likely, however, it's the perfect combination of all these things, touching all the senses and giving shoppers all the feels.
Gallo is the definition of a people person. She thrives being around her guests, and those around her feel overwhelmingly welcomed, loved and appreciated. That's probably why customers return and employees stay put. One of Gallo's employees, McKenzie Hoffman, has been with Oyster Candle Company since 2018, when Gallo was still making candles out of her garage.
When asked about her favorite part of the job, Hoffman replied, "Honestly, all of it. I've really enjoyed watching the business grow. I've come to know lots of customers on a first-name basis, and Shannon has truly taken me under her wing."
She spoke with emotion of how Gallo has been more like a second mom than an employer, and how she has learned the ins and outs of the business from her. Hoffman is "very thankful" for the mentorship.
The sentiment was reciprocated when Gallo said, "Oyster Candle Company doesn't run without her. I have a truly amazing staff."
This is why shoppers all over Charleston are smitten with Oyster Candle Company. The store is filled with love as much as it is amazing local products. Gallo's beautifully curated collection of hand-poured candles, local jewelry, home décor, Charleston pantry staples and so much more fills the shelves. But if you want to get the true Oyster Candle Company experience, you should grab the girls and plan your own evening of shopping, socializing and hands-on candle making.
This fall, Oyster Candle Company is opening its studio doors and allowing you to be part of the process. Select a beautiful vessel, and pair it with your favorite scent to create a candle as unique as the evening itself.
Oyster Candle Company is conveniently situated off Coleman Boulevard, close to Shem Creek and some of Mount Pleasant's best restaurants. Make it a perfect evening by grabbing dinner and drinks before heading to the shop. You can even swing by Bottles to pick up your favorite sips to enjoy during the candle-making party. But hurry — you'll want to book soon to make sure you get the date your heart is set on.
Be sure to follow Oyster Candle Company on Facebook and Instagram so you can see their schedule of upcoming events. Gallo and the team know how to throw one amazing ladies' night.
This season, support local ladies like Shannon Gallo who are following their dreams while encouraging the next generation of great women of the Lowcountry.
By Katie Finch