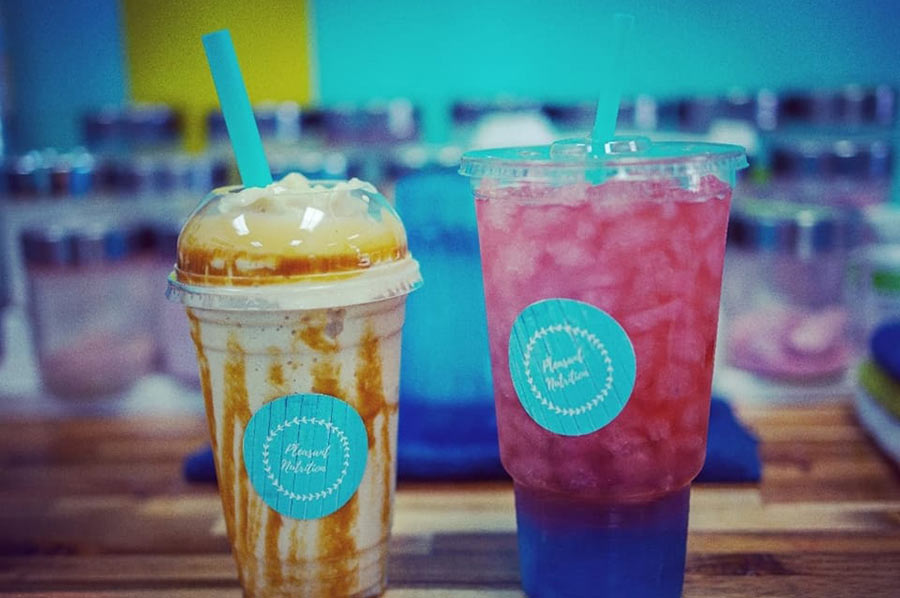 Improving health is one of the most popular New Year's resolutions annually. Whether that means booking that doctor's appointment you've been putting off, hitting the gym or improving your diet, Pleasant Nutrition aims to help you improve your wellness.
"Pleasant started three years ago when we realized there was a need for amazing-tasting healthy options," explained co-owner Amanda Murray. "Pleasant offers healthy protein meal replacement shakes and clean energy teas. Our cozy atmosphere encourages customers to hang out and chat or utilize the space for meetings or quiet time."
Pleasant Nutrition's menu has a variety of options, from colorful, sweet-tasting smoothies under 250 calories to power up teas designed to give you an extra boost of energy — not to mention their vegan and dairy-free options. There's truly something for everyone. Even better, the drinks satisfy that sweet tooth that often sabotages healthy lifestyle changes while still providing nutritional benefits. Herbalife boosters and probiotics are added to drinks, and customers can even request supplements that fit their needs.
Murray remarked that, "Pleasant's most popular menu item is our clean NRG teas. With 21 vitamins and minerals and less than a gram of sugar, the teas help to burn calories and boost metabolism."
Customer health and satisfaction means the world to Pleasant Nutrition. "Every day, we are blessed with regular and new clients and assist them with their nutritional needs. Educating on proper nutrition and getting to know our customers helps them become like family," said Murray.
Pleasant Nutrition has grown in popularity over the years. Loyal customers keep coming back for more, and new customers are stopping by in search of physical wellness. The owners say they owe their growth and success to their customers. "We started out in a tiny space in the back of a shopping center. And now we have tripled our space, revenue and amazing customers. Dedication to the end goal and a focus on the community has helped Pleasant succeed. We could not have done this without our awesome customers," said Murray.
Their colorful refreshments taste as good as they look, and each one looks Instagram-worthy. And while Pleasant Nutrition places a high value on customer service and aesthetics, what is most important is improving wellness in their customers. "If our customers take anything away," Murray said, "we hope it's our absolute concern for their health and well-being."
In May 2021, Pleasant Nutrition opened a new storefront on Highway 17, an expansion made to accommodate their increasing popularity and involvement in the Mount Pleasant community. Their new location has all-new furnishings and a cozy, welcoming feel meant to make you feel at home. Here, customers can also undergo a wellness evaluation by the staff.
To learn more, call 843-513-8888 or check out Pleasant Nutrition on Facebook.
By Allison Sherman