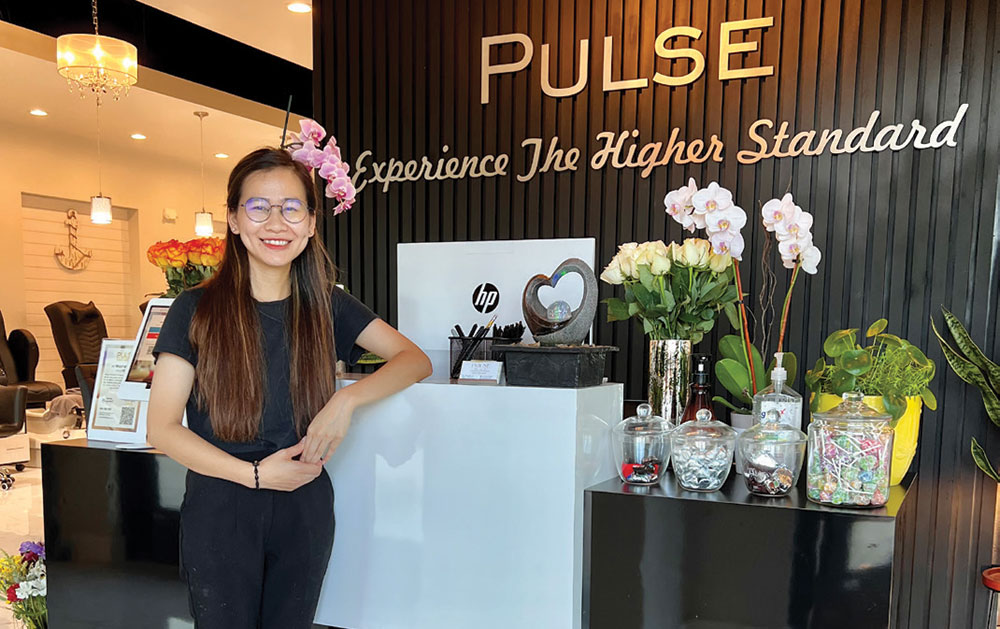 Anna Duong, originally hailing from Vietnam, now thinks of Mount Pleasant as the permanent home of her life and business. And by the time you finish your first day of pampering at Pulse Nails and Spa, you'll likely end up one of her permanent clients.
Open only since July 2022, Pulse Nails and Spa is not just about better skin and nails. It carries Duong's own personal signature touch to your well-being in a way that is hard to beat.
"I love taking care of people, especially children and older adults," said Duong. "I have worked in many nail salons before, and since I don't have family in the United States, I consider all my clients like my family."
For her "family," she offers a number of spa and nail services, including:
• Nine Types of Pedicures.
Close your eyes and pick any one at random. Be it
Luxury Volcano, Milk and Honey or any other style,
your feet will dance all night in celebration.
• Four Types of Manicures.
Whether it's the Classic, the Herbal Sugar Scrub, the
Pulse Signature with Paraffin Treatment or the Pulse
Cucumber, your hands will be glowing, and your whole
body will be relaxed with no trace of stress.
• 14 Types of Waxing.
Duong's treatments will leave you marveling at your
fresh look and feel.
Nail polish, gels and paints are also available in many styles and colors— all with natural organic services and result-driven treatments.
If you missed the summer grand opening, pop by today to see what "Miss Anna" can do for you. If you are already a client looking for something extra-special, Pulse Nails And Salon is the ideal place to host a bridal shower, birthday celebration, bachelorette/bachelor party, corporate event or fun gathering for family and friends.
"No matter what you want, I adhere to the highest industry standards," Duong said.
This is even true in choosing her location. After moving to the country in 2015, she visited many states, trying to find a place that was just right for her and her idea for a new business. Mount Pleasant was not only a good place, it was the right place.
"When I saw the location at Carolina Park across from Costco, I knew right away it was the spot for my salon," she said. "I fell in love with the people and everything around, and it took me over a year to prepare the papers, sign a lease and open the business. And there is nothing more important to me than your safety and comfort when you visit our salon."
So, give your hands, feet and body a special treat by letting Miss Anna and her staff work their magic. It's a guarantee you'll be relaxed and rejuvenated at the end.
For more information, please visit pulsenailsmtpleasant.com, or call 843-352-7637.
By L.C. Leach III