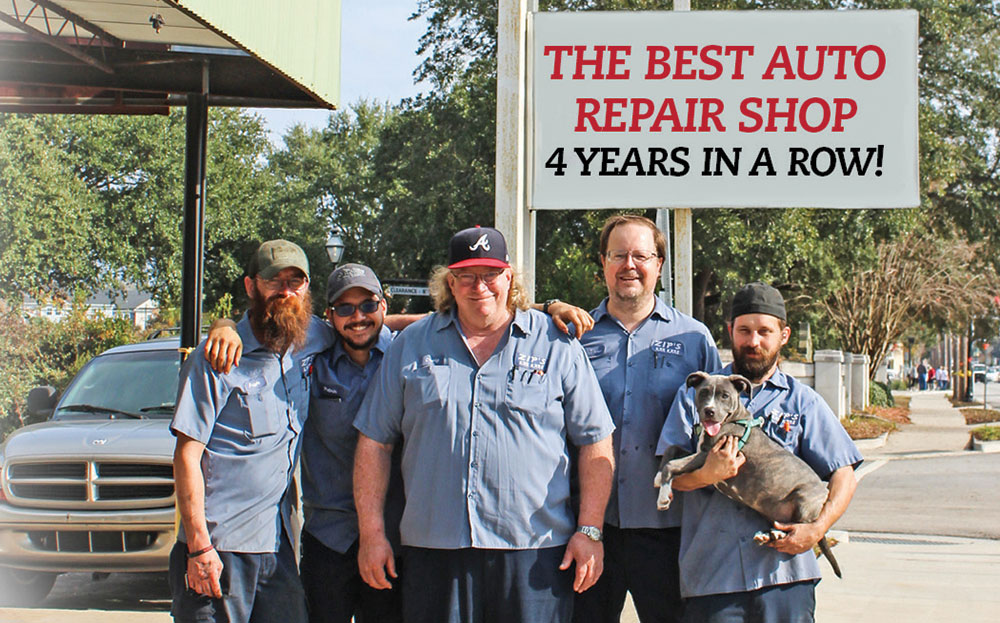 With its signature mint green awning and vintage red and white sign, Zip's Kar Kare on Coleman Boulevard is a charming reminder of a different era in Mount Pleasant history. The auto shop dates back to the 1920s, but despite its quaint facade, Zip's is very much a modern and thriving auto repair business. In fact, it's the oldest running garage in Mount Pleasant.
Zip's has been proudly serving the community for more than 40 years. Jim "Zip'' Zimmerman bought the business in 1983 and purchased the property from the Darby family in 1998. Zimmerman's philosophy has always been to be truthful to customers, to see that his mechanics earn a fair paycheck and to not push unnecessary services just to make a buck. Mr. Zimmerman sadly passed away in August of last year, but long-time Zip's Manager Craig Campany still honors his legacy and customer service philosophy today.
When asked what sets Zip's apart from other shops, Campany swiftly answered, "Honesty."
He elaborated further on Zimmerman's original axiom: "Keeping that [philosophy] in mind throughout the years has been able to let me keep fair prices for people. I don't need to triple the price of a part in order to keep the business going."
Campany attributes much of his mechanical knowledge to his years serving in the Air Force, but he fondly recalls the first vehicle he ever worked on as a teen— a 1964 Chevrolet Bel-Air. Campany's father impressed upon him that if he wanted to have a car, he'd have to know how to rebuild the engine, and, with that advice, he unknowingly started his son on the road to his future career. Zimmerman and Campany became friends in 1983, and Campany started working at Zip's as a mechanic in the early aughts, later assuming the role of manager. The Zimmerman family still owns the garage, with Campany managing and running the day-to-day business.
Zip's specializes in auto repair for domestic and foreign vehicles, excluding European models. They handle oil changes, tune-ups, brake jobs, diagnostics, tire issues and AC repair. In addition to Campany, Zip's employs three full-time mechanics and a specialist who focuses on oil changes and tires. Most of the core mechanics have been working at Zip's for more than a decade and have a longstanding history and familiarity with the generations of customers.
Zip's is proud to support local businesses whenever possible. They work closely with Parks Auto Parts off Johnnie Dodds Boulevard to source parts. They also engage in regular training to stay on top of the best industry practices.
With their top-of-the-line diagnostic equipment, years of experience, technical know-how and commitment to honest customer service, it's no surprise that the bays at Zip's are often full. Campany noted that since the pandemic, their business has actually increased, as more people are keeping their cars and making repairs rather than buying new ones.
The garage operates from 8 a.m. until 5 p.m. Monday through Friday and from 9 a.m. until 2 p.m. on Saturday.
For more information, reach Zip's Kar Kare at 843-884-1171.
By Sherry Whiting