Advanced Animal Care of Mount Pleasant
Nominating Category: Best Local Pet Website
Dr. David Steele, Owner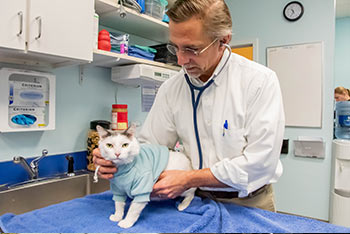 ---
What is it like working in the Mount Pleasant community?
My wife Leslie and I were not born here, but we chose to move here soon after graduating from The College of Veterinary Medicine at Auburn University in 1994. We chose Mount Pleasant because it was a small but growing town, a great place to work, live and raise a family. It's still all that, but boy have we seen this little town change and grow. With that growth comes some perks such as better access to more specialized veterinary care for our pets. This has allowed our practice to really focus our energies on what we do best: wellness and preventative care, primary health care and general medicine, dietary consultation and weight management, prophylactic and primary dental care and emotional/behavioral medicine.
What is the most rewarding part of your business?
The word "doctor" is derived from Latin, meaning "to teach." One of the most rewarding parts of our work is when we can take something as complicated as the diagnosis and management of a serious medical condition and help the client understand the disease and relate it to their own health and life experiences. One of my mentors from my initial clinical training was fond of reminding us that a well-informed client is key to a healthy patient. When a client gains that knowledge, it takes away one of the most frightening aspects of a bad diagnosis: uncertainty. It is invigorating to know that you helped a client have one of those light bulb moments.
What are some challenges that you've overcome?
We are not unlike anyone else that has been living through the last couple of years. The COVID-19 pandemic forced us to completely rethink how we provide our care and even how our clients and patients gain access to the care we provide. Our practice has such an amazing team spirit and all rose to the occasion with ingenuity, creativity and adaptability. We were forced to make changes in the way we worked and make changes again as safety recommendations changed. The old saying is true: what doesn't kill you makes you stronger. Working together, we discovered new ways of doing things and questioned many of the old ways. Consequently, we have discovered new and better ways of providing the very best veterinary care possible.
You've been named one of the Best of Mount Pleasant. What led you to your success?
Andrew Carnegie credited his success by way of offering advice: "Surround yourself with people who are smarter than you." What makes this practice so special isn't necessarily the brilliant doctors or gifted veterinary nurses but rather the sum of all the parts. Everyone in our practice works so hard, knowing that every part of the practice is important in providing the level of care we desire to give to every patient.
For more information, visit advancedanimalcaremp.com, or call 843-884-9838.