Ascue's Auto Body & Paint Shop, Inc
Best Body Shop
T. Christi Ascue Kershaw, CFO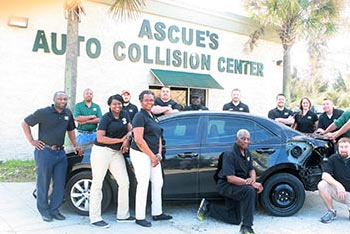 ---
What is it like working with the Mount Pleasant community?
Working with the community in Mount Pleasant is like working with family or a tight-knit community. We have a good bit of repeat customers — not only returning customers, but customers with families who returned over the past 50-plus years.
How did your business get started?
Tim Ascue started the business in 1968 with an intention to create a family business that began with brothers and sisters. Since inception, the business has transitioned to the second generation with Tim's children, Craig and Christi.
What is your most popular service?
We are a family-owned collision repair and paint center. We are known for our quality repair work and great customer service.
What is the most rewarding part of your business?
Getting to work in such a beautiful town with a supportive community.
What are some challenges that you've overcome?
Being a local family business can have its challenges when competing with franchise auto repair facilities. Recently, due to COVID-19, logistics with parts and communicating to our customers about those parts taking longer than normal has been a challenge. We have overcome the challenges by keeping our customers up-to-date and informed.
To learn more, visit ascuesautobody.com or call 843-884-6862.