Automotive Excellence
Best Auto Repair Business
Johnny Page and Hollis Page, Owners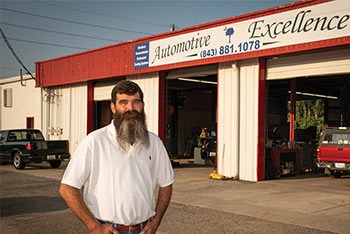 ---
What is it like working with the Mount Pleasant community?
The Mount Pleasant community is an absolute pleasure to work with. A lot of our customers have been with us for many years, so they are more like an extended family. All of our new customers find out really quickly that we want to learn who you are and who your children are. We are a family business, and we love family. As the owner of Automotive Excellence's both locations — one at 1237 Ben Sawyer Blvd and the other at 1084 Johnnie Dodds Boulevard — I make it a point to go in the waiting rooms and personally meet and talk with my customers new and old, with my faithful dog Mingo. The people of this community are who make us one of the Best Of Mount Pleasant winners. We thank each and every customer for their patriotism. We know that it takes the local people to keep a business going, and we thank you once again.
What is the most rewarding part of your business?
The most rewarding part of our business is the people, from the employees that are really like family to the customers. It's also the job itself — you have someone come in with a problem that they can't fix themselves, and you take care of it for them. Making customers happy is what it's really all about. Seeing that smile when leaving is priceless.
To learn more, call 843-216-1599 or you can find Automotive Excellence on Facebook.