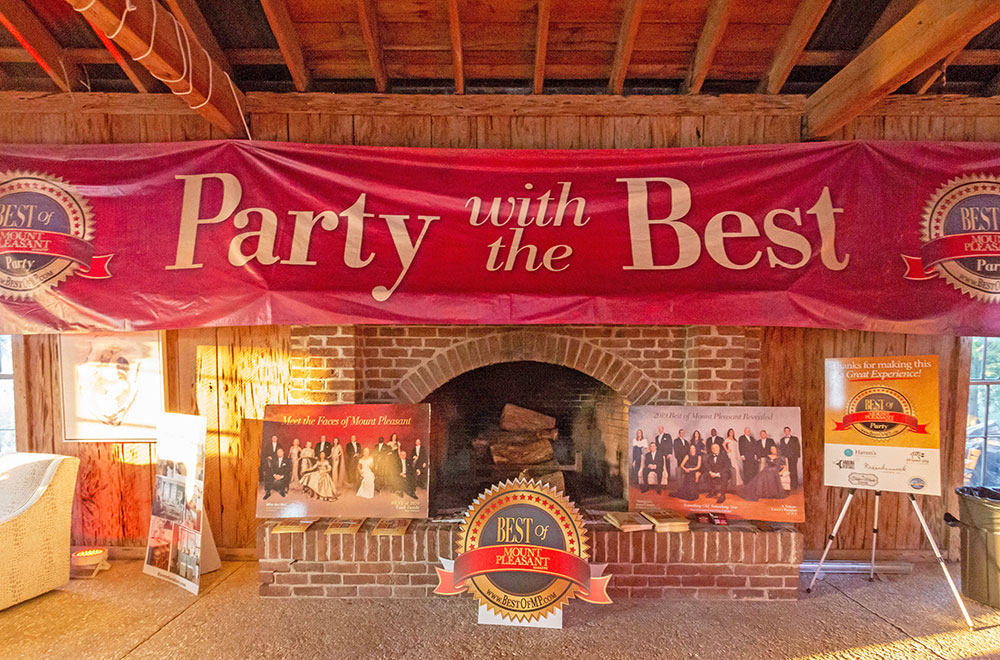 The music could be faintly heard as guests made way down the Avenue of Oaks. Among the warm evening, salty air and scent of fresh oysters was also a buzz of energy. The Cotton Dock at Boone Hall Plantation was brimming with food, music and entertainment, but the single most important thing it held was the best thing about the town of Mount Pleasant: its people.
A quick glance around the venue is all it took to see what kind of party this was meant to be. It was a celebration of community, even more so than a celebration of business.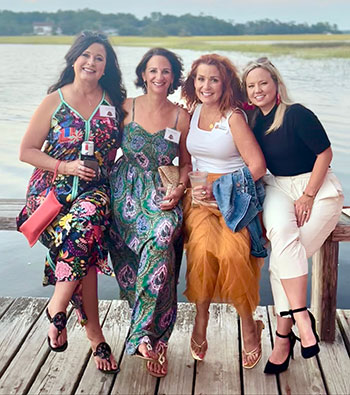 John Price and the Moonshine Gang set the mood playing upbeat classics, which put a little pep in the step of everyone entering the check-in line. Then, once outside on the dock, guests enjoyed the first hints of the fall breeze and beautiful creekside views. Many also partook in the finely stocked bar and cigar selections, courtesy of Striped Pig Distillery and Cigars On 17.
Inside the wooden rustic building, there was a constant stream of guests flowing through buffet lines to experience the Lowcountry boil prepared by Dish & Design Catering. An assortment of desserts overflowed from their platters, putting the sweet cherry on top.
As great as the food selections were, the tastiest ingredient was the conversation. The room was abuzz talking business, fashion, family and, most importantly, how to get a hold of one of those cool remote control Bluetooth coolers everyone saw rolling around. The most obvious thread that bound it all together was one of mutual admiration and uplifting respect each guest had for the other. No matter the topic of conversation, everyone was proud to be a part of Mount Pleasant.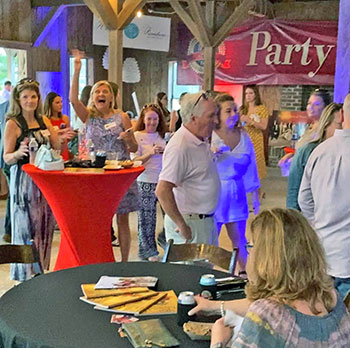 It was easy to see the genuine fondness everyone felt toward their local town and business compatriots. Sometimes, it's easy to get so caught up in our personal singular visions, and we forget to appreciate the impact we have on the people we serve. As celebratory as this night was, it also served as a reminder that we are here to make our town, our people and our family stronger. We are strong when we succeed together—and of course, celebrate together.
Along with Mount Pleasant's Best, the night could not have taken place without the help of Boone Hall Plantation; A Tailor Made event; Dish and Design Catering; Rappahannock Oyster Bar; Striped Pig Distillery; Cigars on 17; Sweet Juleps; Carolina Cocktails; Perkins Restaurant and Bakery; SC Department of Natural Resources; Simmons Seafood; TradeBank of Charleston; and John Price and the Moonshine Gang.
As the night drew to an end and the last cars pulled away, there was a palpable feeling draped over the grounds. That feeling was a sense of togetherness and of a community supporting the idea of "we." We're the best when together.
By Chesley Lanford