Buxton & Collie, LLC
Best Attorney: Business Attorney
Jim Buxton, Founding Partner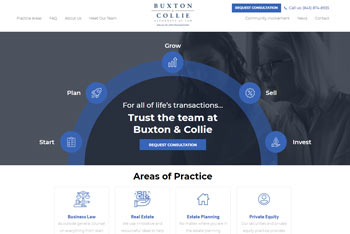 ---
What is it like working with the Mount Pleasant community?
In a word, fantastic. We live and work in a vibrant and growing area — businesses are flourishing and the quality of life cannot be beat. It is an exciting time to be a small business owner in the Lowcountry, serving other businesses here and throughout the country. I can't think of a better home base.
How did your business get started?
Starting my own law firm was a longtime dream of mine. I took the plunge in 2010 with myself as the only employee in a shared space on Lowcountry Boulevard. Brian Collie joined me in 2012, and we've been growing since. We moved into our current home on Johnnie Dodds in 2016. Buxton & Collie LLC has always been in Mount Pleasant, where we both live, along with many of our employees.
What is your most popular service?
Our tagline, "For All of Life's Transactions," includes real estate, estate planning and business services. Serving as outside general counsel to a variety of dynamic businesses is probably what we do most frequently. Many clients stay with us for years as their businesses grow and evolve.
What is the most rewarding part of your business?
Helping business owners and watching them succeed, hire people, grow and breathe life into our community is the most rewarding part. It's a pleasure to see many client businesses succeeding, knowing we're helping them achieve their goals.
For more information, visit buxtonandcollie.com, or call 843- 874-8935.