Carpet Baggers Flooring
Best Flooring Store
Dean Kelly, Owner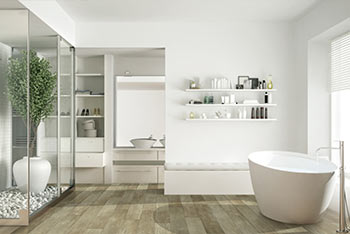 What is it like working with the Mount Pleasant community?
We absolutely love working in the community. The people of Mount Pleasant are diverse, with many living in the area their entire lives while others come from all over the country.
How did your business get started?
I started Carpet Baggers back in 1992 after working for a company that sold various home products, including flooring, to builders. The economy and the company were struggling, so I decided to start Carpet Baggers. My wife and I had just had our first of three daughters and moved into a new home. Things were scary at first, but with faith, a good work ethic and a passion to fill a need, we just kept showing up and getting it done. We have been blessed over the years with new customers and a much larger work family.
What is the most rewarding part of your business?
While I don't get to see every single customer like I used to in the early days, I still love talking to and assisting customers. I love people, and I really love our team. While we have six of my actual family members working with us, all 29 of our staff and installers are part of the CB Family. We try to make our customers feel the same way…like family.
To learn more, visit carpetbaggerscarpetone.com, or call 843-410-2680.