Franke at Seaside
Best Assisted Living Facility, Best Independent Living, Best Retirement Community
Nominating Categories:
Best Neighborhood
for Retirees
Allison Macfie, Community Outreach Director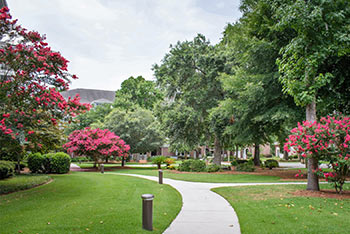 ---
What is it like working with the Mount Pleasant community?
The Mount Pleasant community has always welcomed Franke at Seaside residents. We feel fortunate to be part of the growth in Mount Pleasant and to care for the number of older adults who choose to move to this area. There are so many wonderful things to enjoy in Mount Pleasant.
How did your business get started?
Franke Home started 129 years ago in downtown Charleston with the capacity to serve 18 "guests." We are part of Lutheran Homes of South Carolina.
What is your most popular service?
As part of Lutheran Homes of South Carolina, we are a faith-based and not-for-profit continuing care retirement community. We have Sunday church service at 10:30 a.m. with our very own Chaplain Alvin Shrum, who is here on campus to serve our residents and family members.
What is the most rewarding part of your business?
Building relationships with our residents and family members. We serve generations of family members at Franke. I am fortunate to work with many of the same family members, as they move through the continuum of care, in the last eight years I have been with Franke at Seaside.
What are some challenges that you've overcome?
With COVID-19, our biggest concern was the social and emotional health of our residents on campus. We were closed to visitors for a long time. All of our staff members — housekeeping, maintenance, culinary services, administration — all came together to support our Life Enrichment team in making sure our residents' needs were met. Family members trusted us to care for their loved ones even when they could not come in to see them. I had the privilege of seeing their loved ones when they were not able, and that is an important job to fulfill.
Describe the atmosphere at your business. What do you want customers to take away from Franke at Seaside?
We like to think of ourselves as The Franke Family. We are small and know our residents and family members. It is the "feel" of Franke that makes us different from everyone else. I often hear that "it feels like home" when I give tours. The residents are out of their rooms, in activities, playing games or sitting on the porch. The staff addresses everyone by preferred name.
You've been named one of the Best of Mount Pleasant. What led you to your success?
We have been in Charleston for 129 years. We have been providing care to the members of the Mount Pleasant community for 25 of those years.
To learn more, visit frankeatseaside.org, or call 843-216-2222.