Haven's Furniture
Best Interior Decorating Company, Best Interior Design Company, Best Furniture Store, Best Outdoor Furniture Store
Angie Balderson, Owner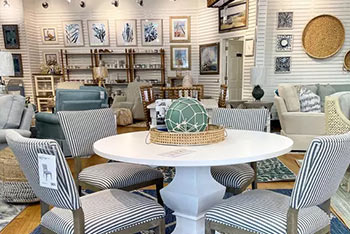 ---
What is it like working with the Mount Pleasant community?
It has been such a pleasure working with the Mount Pleasant community. Over the past five years that I have been in business, my employees and I have had the opportunity to meet so many amazing people. We have enjoyed helping our new friends make their homes a true haven.
How did your business get started?
I started my business in 2016 as a furniture consignment shop, Consign Haven. A few years later, I decided that growing up in the furniture capital of the world — High Point, North Carolina — and knowing so many of the manufacturers, that I wanted to bring in new furniture instead of consignments. Having the relationship with the manufacturers meant I could bring in incredible pieces at amazing prices, so that's exactly what I did.
What is your most popular item for sale?
My most popular item would be my sofas and sectionals. I specialize in high-performance fabrics that are perfect for kids, pets and even the messiest husbands.
What is the most rewarding part of your business?
The most rewarding part of my business is the fact that I get to do what I love every day. Seeing the smiling faces of happy customers we help is extremely rewarding.
What are some challenges that you've overcome?
The COVID-19 pandemic! The supply chain has been, to say the least, a train wreck. However, I planned smartly and started placing tons of orders with my manufacturers as soon as I realized what was going to happen with the supply chain. We have more inventory than ever, which allows me to sell right off the floor. We are able to replenish inventory on a daily basis.
Describe the atmosphere products at your business. What do you want customers to take away from your business?
I pride Havens Furniture on customer service 100%. When you walk in any of our locations, we want you to feel right at home. We want to know your name, your kids name … even your pet's name. The best compliment received is when a customer tells me I feel like family when I come to your stores.
You've been named one of the Best Of Mount Pleasant. What led you to your success?
We have amazing employees, amazing furniture and amazing customers.
To learn more, visit havensfurniture.com or call 843-388-3935.