Izzy's Scoops & Sweets
Nominating Category:
Best Ice Cream
Isabelle "Izzy" & John Dymond, Owners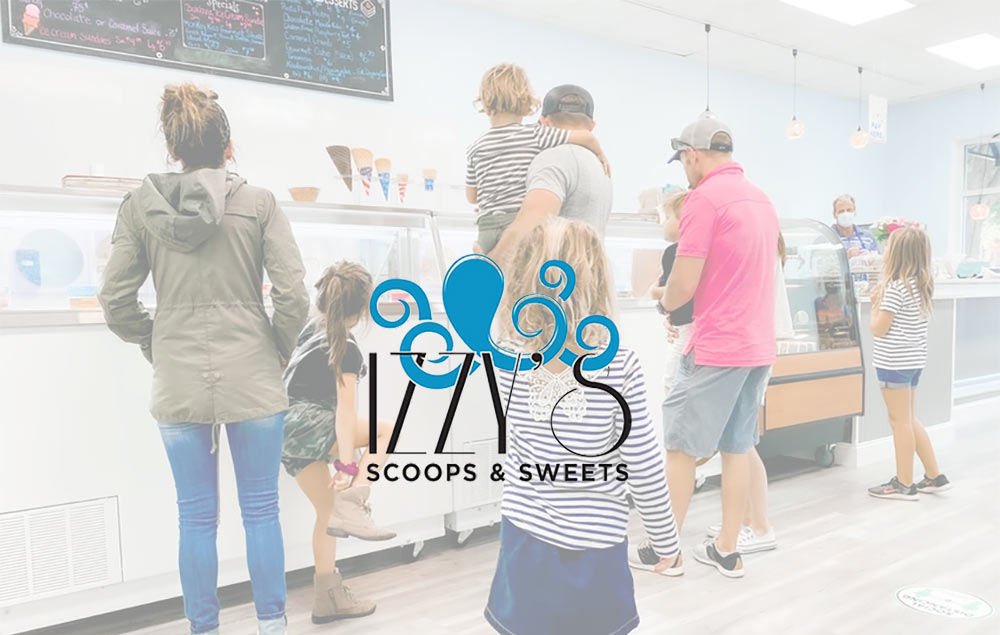 ---
What is it like working with the Mount Pleasant community?
It is truly a pleasure! Mount Pleasant is a family-friendly community that it feels like we've come home. The residents made us feel welcome from day one! It's always a pleasure to see returning vacationers, too. Our staff are local, and they are a testament to how friendly and hardworking the community is.
How did your business get started?
We were transferred from Atlanta in 2019. Izzy's job didn't transfer, so she was looking at options. Several of the shops at Seaside Farms did not renew leases during Covid, so that created vacancies. Seeing a need, she started forming the idea that would become Izzy's Scoops & Sweets.
What is your most popular item?
There are so many! Cappuccino Crunch is the most popular ice cream flavor. Coconut Cake and Strawberry Float Cake top the list. Then there's our baklava sundae — two scoops of ice cream with chopped baklava and chocolate fudge, topped with whipped topping, crushed nuts and a cherry.
What is the most rewarding part?
Seeing the joy and wonder on the faces of children. We have made some great new friendships. We enjoy chatting with guests of all ages! We love being a part of celebrations like birthday parties, anniversaries, date nights and family reunions. We also love when folks come in for respite from a challenging time, trying to find a happy place.
What are some challenges you've overcome?
There really haven't been many challenges. We've been lucky finding an amazing crew and incredible suppliers. The biggest challenge has been finding the right size lids to match our cups!
For more information, call 843-981-9177, or visit izzys-scoopsandsweets.com.