Joey Bag a Donuts
Best Doughnuts
Stevie Twomey, Owner/Operator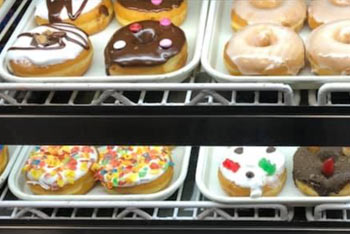 ---
What is it like working with the Mount Pleasant community?
Working with the Mount Pleasant community is the most satisfying part of our job. We try to create an atmosphere where customers are more like friends. We have developed some amazing relationships with some of the Mount Pleasant locals, and we feel so blessed to have this incredible town to serve.
How did your business get started?
Joey Bag a Donuts was established in 2009. We took over ownership in 2017. We were already business owners in the community, but we were looking to transition out of our previous business. We stumbled upon Joey's by chance — not at all the type of business we were looking for, but after seeing the shop in person, we couldn't walk away. We loved the sense of community we got from the shop, and we loved the services and products.
What is your most popular menu item?
Of course, with a name like Joey Bag a Donuts, our donuts are our number one seller. We have different and fun varieties that make picking them out an experience in itself. The kids have a blast coming in and checking out all the different choices. Our lattes and bagels are a close second.
What is the most rewarding part of your business?
The most rewarding part of owning Joey Bag a Donuts is definitely the community interaction. We try our best to treat everyone like family, and it truly feels like that with some of our customers. Doughnuts generally have the ability to bring a smile to people's faces. We love that we are able to offer a product that does that. When you are having a rough day and someone hands you a doughnut, it can bring a moment of joy, and that is the best part of what we do.
To learn more, visit joeybags.net, or call 843-856-5639.