Locals Sushi
Mount Pleasant
Nominating Category:
Best Raw Bar
Brittany Gifford, General Manager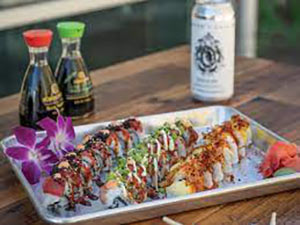 ---
What is it like working with the Mount Pleasant community?
It has been really rewarding to build a relationship with our local community over the years and to see so many familiar faces and returning customers.
How did your business get started?
A few good friends decided they wanted to open their own sports bar with a unique concept.
What is your most popular menu item?
We are definitely known for our sushi, with our most popular item being our Local Lovers roll. It's tempura lobster, avocado, shredded crab and cream cheese inside. Then it's topped with filet, our house made wasabi sauce, spicy mayo and sriracha.
What is the most rewarding part of your business?
I think the most rewarding part of Locals is really the relationships between our staff and customers. We really are one big family in that building, and it's wonderful to see staff that enjoy being at work and for that energy to come through in their customer service.
What are some challenges that you've overcome?
Like for most local restaurants, COVID-19 was a pretty rough and uncertain time. It was amazing to watch the outpouring of community support that allowed us to get through those tough times and continue to grow as a business since.
To learn more, visit localssushi.com, or call 843-388-5114.