Migliori's Pizzeria
Best Pizza
Joanne Migliori, Co-owner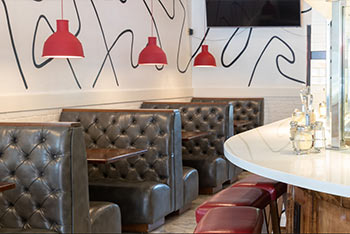 ---
When did you decide to go into the business you are in?
My husband and I both have a longstanding love and appreciation for Italian heritage and food. We then coupled that with wanting to have a place where my husband's sister with special abilities, Jill Marie, could have a place to work and feel a sense of comradery and fulfillment. From there, Migliori's Pizzeria was born.
What or who inspires you?
My sister-in-law, Jill Marie, acknowledges every act of kindness shown to her every single day.  In the chaos of work and family, little things like someone holding the door for you are sometimes overlooked as expected, but never with Jill Marie.
I'm also inspired by my husband. He is someone that always takes the time to listen and would do anything for his family and friends.
Give us some success tips for someone just starting out in your line of work.
Working in the food and beverage industry will definitely build a thick skin; however, there will still be times when that skin is punctured in some form. But know this: if you believe in what you're selling and the atmosphere you're creating, those obstacles are only small hills to climbing a mountain of success.  Most importantly, surround yourself with people who know more than you.  They challenge you to be better and do better.
To learn more, visit migspizzeria.com, or call 843-856-7800.