NICO | Oysters + Seafood
Best Chef, Best French Restaurant, Best Raw Bar, Best Seafood
Nominating Categories: Best Restaurant to Take an Out-of-Town Guest, Best Restaurant Service
Nico Romo, Owner/Chef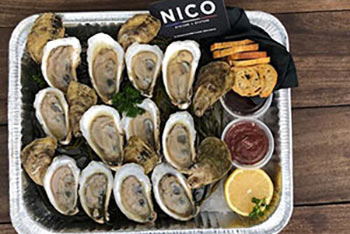 ---
What is it like working with the Mount Pleasant community?
It is a great community to be a part of. It is a welcoming community, and the support has been endless since day one of opening. We have a loyal following and love being in Mount Pleasant.
What is your most popular menu item?
It's hard to pick one…. we have so many regulars that come back for specific dishes — the quenelle is unique, and you can't find that anywhere. Our chicken was a big deal, and I cooked that on the Beat Bobby Flay show. Of course, our oyster selection is one that covers all the best farms of the East Coast, and the baked Alaska is probably the most Instagrammable dessert in the whole Southeast.
What is the most rewarding part of your business?
Food is what brings us together. It is truly one of the things that people from all walks of life can connect on, and I love cooking and sharing my food with the people in this community: our guests and the staff that work here at NICO. We have created a true family business, even though I'm not there every day. From the front of the house to the back of the house, everyone knows everyone, and they feel at home when they come dine with us.
To learn more, visit nicoshemcreek.com or call (843) 352-7969.