Oyster Candle Company & Coastal Gifts
Best Place to Buy a Gift
Shannon Gallo, Owner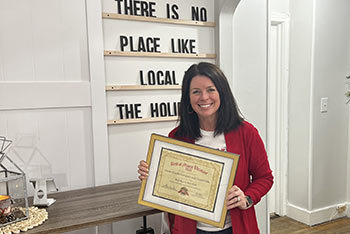 ---
What is it like working with the Mount Pleasant community?
Working with the Mount Pleasant community is like working with friends and neighbors every day. We have developed real relationships with our customers, and we know so many of them by name. This enables us to find the right gifts for their needs.
How did your business get started?
I started pouring candles about 20 years ago as a hobby. As my children got older and started school, I decided to make candles as teacher gifts. Eventually, teachers started asking if they could purchase my candles, and before long, I outgrew my kitchen table for production. I opened a candle-making facility and made candles for retail purchase by day and hosted candle-making parties on weekends. That was in Texas, and when we moved to South Carolina four years ago, I decided to start all over again.
What is your most popular item?
Our most popular items are our signature 3-piece oyster tea light candles and our wood wick candles. However, we carry much more than just candles. I take a lot of pride in purchasing as much merchandise as possible from local makers — oyster beads, pillows, tea towels, ornaments, jewelry, spice and sauces.
What is the most rewarding part of your business?
When customers refer our business because they have had a great experience, I find that incredibly rewarding. I also love working with brand new makers. Oftentimes, makers have never sold their work in a store before. Seeing their happiness when their items are on a shelf for the first time is truly amazing.
What are some challenges that you've overcome?
Supply issues have been our biggest challenge since opening the store in February 2021. The problem has been the decrease in workers and drivers for our suppliers. It has often held us up from making our candles as fast as we'd like. However, I have learned to triple-order the amount of supplies each time. Now the challenge is finding a place to store everything!
Describe the atmosphere at your business.
Our gift shop is a unique shopping experience, as it's in a house built in the 1950s. We have a large yard and porch that has already housed some fun events. I always tell customers that our front porch was made for sitting, relaxing and enjoying a beverage after you shop.
You've been named one of the Best Of Mount Pleasant. What led you to your success?
Every bit of my success stems from my family's support, my extremely hardworking staff and my customers. I've worked hard to create a brand and the best shopping experience possible. I believe that being present in your business is absolutely crucial and is the key to success. I measure success not with awards but seeing happy repeat customers.
To learn more, visit oystercandlecompany.com, or email [email protected].