Page's Okra Grill
Best Budget-Friendly Meal,
Best Shrimp 'n Grits
Nominating Categories:
Best Biscuits, Best Breakfast, Best Brunch, Best Fried Chicken, Best Grits, Best Restaurant to Take an Out-of-Town Guest
The POG Team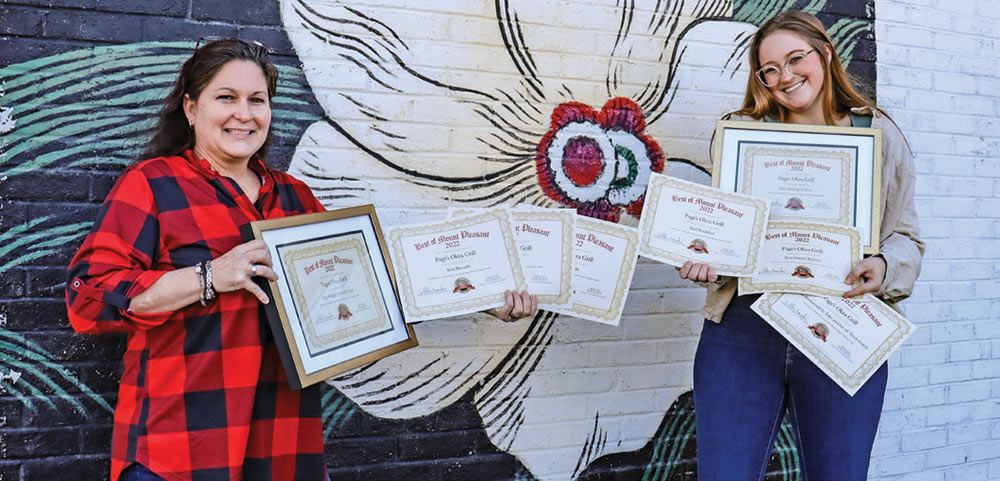 ---
What is it like working with the Mount Pleasant community?
Mount Pleasant is our home and our community. The Page family are locals and have lived in this area for a long time. Tony Page and his children Ashleigh, Courtney and Chase wanted to provide a great place to come eat and enjoy fellowship. So many people in Mount Pleasant have played a part in our success story. We love seeing familiar faces every day!
How did your business get started?
Tony Page was always obsessed with the hospitality industry as a world traveler in the corporate world. His daughter, Ashleigh, was an accomplished chef at Boone Hall, while Tony ran the operations there. And so they both were inspired to start Page's Okra Grill from that experience together. Courtney joined them, and then Chase as well, to make to it a complete family dream team.
What is your most popular menu item?
Ashleigh's Famous Shrimp and Grits and our fried and grilled seafood are our most popular menu items.
For brunch, chicken and waffles and our Shem Creek omelet are very popular. We have a pretty big menu with great options. It's hard to choose just a few items.
What is the most rewarding part of your business?
We have a great responsibility in the hospitality industry. We see and interact with thousands of people a week, and being able to give those folks a great experience with great food—but also genuine hospitality and fellowship— is why we are in business. Also, we have such a great team at POG. It is so rewarding to see everyone grow as people and professionals.
What are some challenges you've overcome?
Starting a new business in 2006 was pretty challenging, and handling our growth and move to our current location at 302 Coleman was difficult. We have set such high standards for our food and service that it was definitely a challenge to exceed those standards while growing as fast as we did. And then Covid—forget about it. It was the mother of all challenges. But our team dug in and made the absolute best of the situation. We are very proud of our team!
Describe the atmosphere and cuisine at your business. What do you want customers to take away from it?
We are Lowcountry through and through. Our motto is "Local Food for Local Folks." We want folks to eat great food and leave our dining room feeling like they were enjoying a meal at a friend's house. If you walk through our door, we aim to treat everyone like a local and a friend.
You've been named one of the Best of Mount Pleasant. What led you to your success?
The Page family created a culture to care about all the little details that go into making a dining experience wonderful. It starts with great recipes. But all the other details, like grinding our meat daily, obsessing over choosing the best sources for our groceries and instilling pride in treating people with friendliness and kindness, all added up to make people want to come back. Whether it is for great food or great conversation, they keep coming back. We are very grateful for that!