Rad Rydz
Best Golf Cart Sales and Service
Andrea Leary, Owner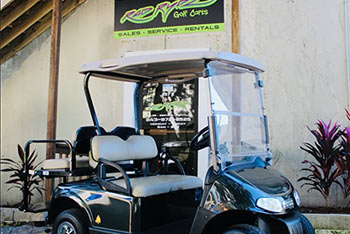 ---
What is it like working with the Mount Pleasant community?
We love the Mount Pleasant community. We cannot imagine living and working anywhere else.
How did your business get started?
We used to own Finz Bar and Grill, and Chad started selling golf carts on the side. Once we sold the restaurant, we traveled a bit and were trying to figure out our next steps. Chad was still selling golf carts and then people started dropping off golf carts for repairs. Eventually, we decided that our path had been chosen for us, and we haven't looked back.
What is your most popular product / service?
Golf Carts. We cannot keep them in stock. We do a ton of service and repair. The most popular request is speed. People want their golf carts to go fast.
What is the most rewarding part of your business?
It's helping people get what they want while staying within their budget. Sometimes people come in with an idea in their head, and I love the look on their face when we are able to create their vision.
What are some challenges that you've overcome?
The biggest challenge we have faced is finding golf carts to sell. Over the past 18 months, demand for golf carts has grown exponentially. Unfortunately, the number of golf carts available has decreased. We strive to make our golf carts as affordable as possible, so finding inventory at a decent price is a huge challenge. However, this forced us to expand our original business model.
To learn more, visit radrydz.com or call 843-972-8525.