SAVI Cucina + Wine Bar
Best Dessert, Best Italian Restaurant, Best Restaurant Service, Best Takeout, Best Wine Selection
Nominating Categories:
Best Bar (Inside), Best Chef, Best Bartender in Mount Pleasant, Best Steak
Ty & Karen Raju, Owners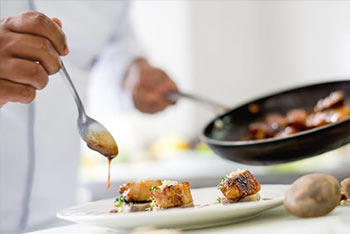 ---
What is it like working with the Mount Pleasant community?
The Mount Pleasant community is beyond amazing. When we opened our doors in November of 2019, we had no idea that COVID would close our dining room a few months later. However, the community helped keep our dream alive by ordering takeout and delivery and promoting us on social media. We've had the pleasure of meeting so many kind and generous members of this community that we now call family.
How did your business get started?
We both come from corporate backgrounds but got our start in restaurants, bars and hotels. I guess you can say that once it's in your blood, it's in your blood. Couple that with a passion for food, wine and genuine hospitality, and you end up with two folks that have a "slight" obsession for this industry. Upon moving here in 2017, we longed for the familiar Italian flavors and great wine lists that our favorite restaurants offered back home. We were sitting around the table one night, eating pasta and drinking a great Chianti, and Ty said, "Let's call it SAVI – after your grandma." …And SAVI was born.
What is the most rewarding part of your business?
Simply stated, when guests enter as friends and leave as family. We feel so strongly about it that we posted it above our beautiful cocktail bar. And that won't happen unless you have amazing folks on your team. We call it the "SAVI Fam," and we truly are one big family. We believe that when you take care of your family, they will take care of the extended family.
What are some challenges that you've overcome?
In one word, COVID-19. No industry was left untouched by the impacts. From supply chain impacts and staffing challenges to the need to change your business model frequently based on various mandates, we had to remain flexible and innovative.
Describe the atmosphere and cuisine at your business. What do you want customers to take away from your business?
SAVI Cucina + Wine Bar is a place you can come for date night or to enjoy a pizza and a glass of wine on your way home from work. It's the perfect spot for a girls' night out or a family celebration. The atmosphere is sophisticated and chic, yet approachable. We offer house-made Italian cuisine along with chophouse favorites. Our wine list is one of the largest in the area and has won two awards from Wine Spectator. We have more than 30 wines available by the glass and several hundred by the bottle. We also offer craft cocktails that change with the season. What truly sets us apart is our warm, Southern Italian hospitality. When you come to SAVI Cucina + Wine Bar, we want you to leave feeling like you have become part of the family.
To learn more, visit savicucina.com, or call 843-606-1856.